Create your own sticker shape
Create one-of-a-kind stickers, cut to the shape of your logo or picture.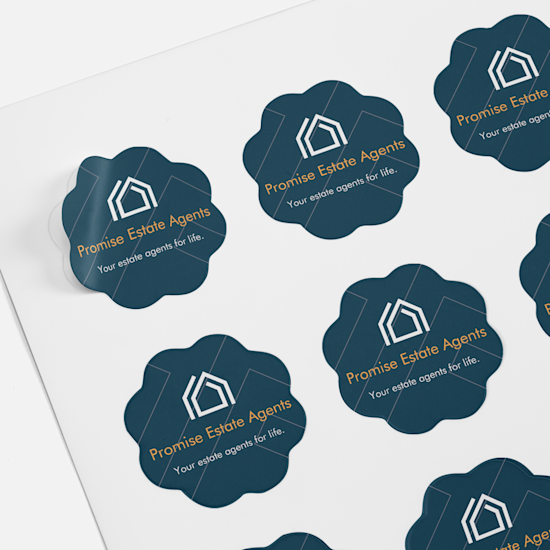 Die-Cut Sticker Sheets
Sheets of stickers cut to your chosen shape and great for events and stickering products.
Unique, stylised stickers for special occasions
Skip to Stickers on the Go
Fun and functional stickers that help you connect with your friends, family or customers.
Stickers on the Go
Bring your logo or favourite pictures with you wherever you go.
Stickers no business would be complete without
Whether you're selling products in-store or shipping worldwide, we've got just the stickers for you.
Choose the proper size circle sticker for your project
Skip to Need sticker design help?
See our circle sticker template collections with options for handouts, packaging and more.
Step up your small business marketing with personalised stickers.
Custom sticker printing is an easy and affordable way to promote your brand and boost your marketing in many surprising ways. Design stickers to hand out to your customers, put on your product packaging or make your boxes stand out.
Your made-to-order stickers come with plenty of customisation options: Choose from easy write-on paper or extra durable plastic, create custom-made shapes and personalise them further with sizes and finishes that suit you. Whatever your business, you can create a one-of-a-kind look that connects with your customers.
Wondering how to make stickers online? Whether you want to show your support for a cause, make your events more memorable or show off your logo on laptops, water bottles and more, we'll make the process as simple as possible – with expert design help at the ready if you need it.
Made by you, #MadeWithVista
We love to see your custom creations. Post a photo on social media and add @VistaPrint and #MadeWithVista for a chance to be featured here.
Frequently Asked Questions
Yes, whether you prefer patterned prints or minimalistic designs, we have options for you. After selecting your sticker type and shape, you can explore our customisable template designs. You can also filter templates by industry, style or colour. Then you can personalise the stickers further with your choice of text, images or logos.
When you're ready to create, you have several options to choose from:
Browse our design gallery for our pre-made templates which can be customised with your text, images or logos.
Upload your own design if you want to start from scratch.
Work with a professional designer to create a one-of-a-kind design just for you.
If you choose a custom-shaped sticker with your logo, one of our designers will design it and submit it for your approval within 4 hours.
You can choose from a number of sticker options based on your needs. For example:
You can upload files in .pdf, .png and .jpg formats.
Depending on your choice of product and size, you can order custom-printed stickers in quantities as low as 4 and up to 5,000 in one go.
Yes! Our sheet stickers offer a white paper option that's easier to write on. We recommend using a permanent marker when writing on stickers made of plastic. When designing stickers with a black background, make sure you use an ink colour that stands out — like gold, silver or white.
You can use our paper options indoors or in situations where liquids won't come into contact with your personalised sticker. Plastic material is both oil and water-resistant and a more durable option for both indoor and outdoor use.
Yes, we recommend designing each one from scratch to get the best results from stickers with different shapes and sizes. Our design gallery and tools will help you get started quickly.
---