Christmas Packaging
Create custom gift packaging for your business that gives your customers a brand, and a Christmas, to remember.

Shipping & Deliveries
Get your products out safely — no reindeer or sleigh required.
Product Boxes & Customer Gifting
Christmas-themed boxes and packaging that create an unforgettable experience.
Festive Shopping & Kraft Paper Bags
Skip to Gift-wrapping Accessories
Deliver your gifts in true Christmas spirit with festive-themed bags for products of all shapes and sizes.
Food packaging for any feast.
Custom packaging suitable for everything from soup to turkey and cranberry sauce.
Tis the season to get creative with your personalised Christmas packaging.
Connect your small business to the joy the festive season can bring with custom Christmas packaging and other winter-themed options. Creating a seasonal-themed unboxing experience for your customers brings joy and happiness. And designing beautiful, gift-ready festive packaging saves customers time — giving them another reason to be impressed and buy from you. Decorative Christmas boxes may also come in handy at corporate events, business Christmas parties or charity events. From custom Christmas gift boxes to personalised wrapping paper and Christmas gift bags, we've got everything you need to give your custom packaging a touch of festive pizzazz.
Plus, we've made it easier than ever for you to customise your Christmas packaging to your exact needs — or choose from our wide selection of ready-made festive templates. Simply add your own finishing touches — your logo, text and business information — using our design studio. We will then professionally print it and deliver it to your doorstep. And if you need help along the way, our design experts are one call, chat or email away to help bring your winter or festivepackaging ideas to life.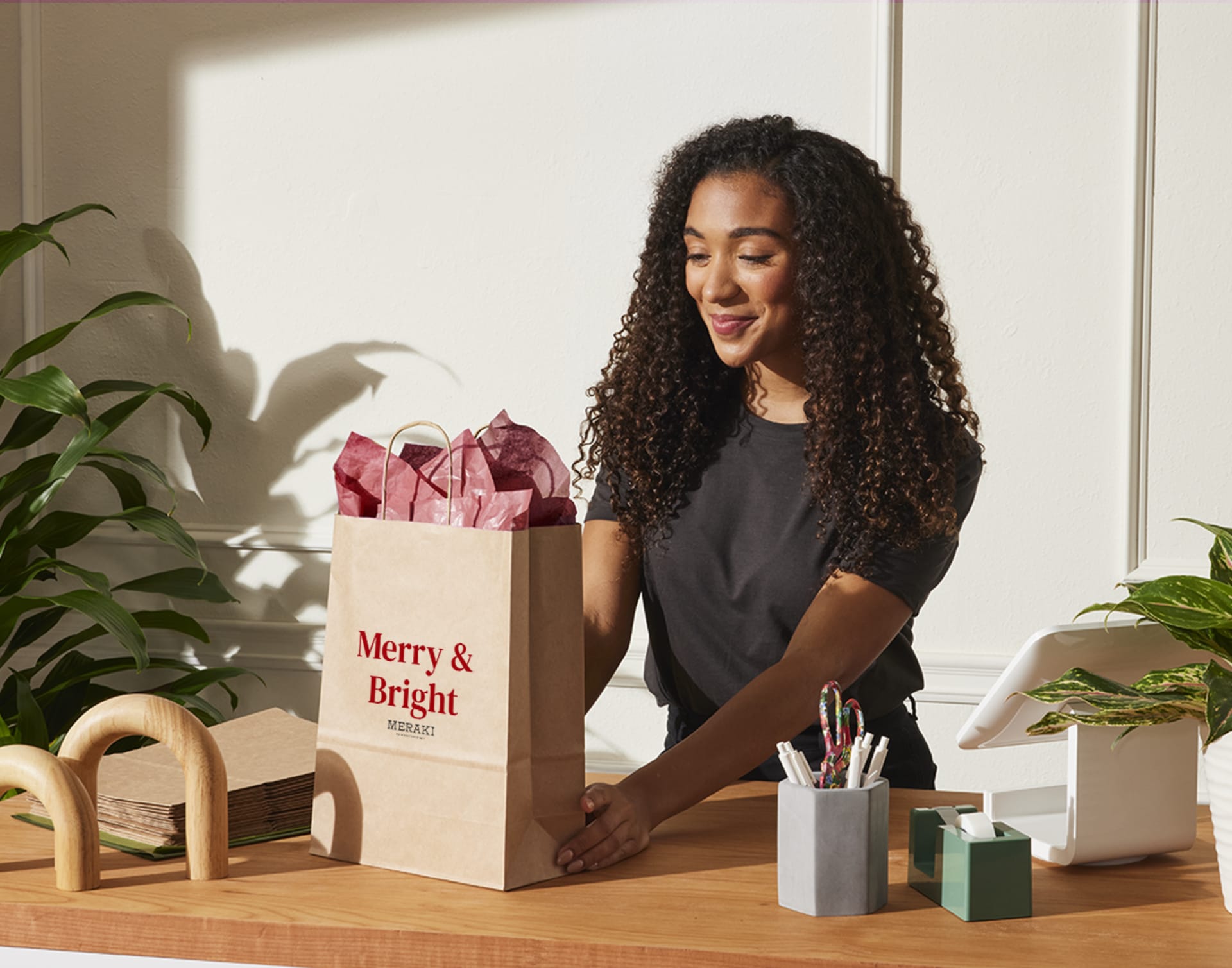 Let's get social.
Upload a photo with your product and tag @vistaprint for a chance to be featured.
Frequently Asked Questions
The festive season is a time of excitement and increased sales for many small businesses. What better way to spread the festive spirit to your customers than with custom Christmas packaging? That's why VistaPrint is here, with a range of custom packaging options, branded water-activated packaging tape and more.
When a customer buys a product during or just before the festive season, chances are they plan on giving it away to someone. And with custom packaging, you can help those customers by giving them products that are packaged like gifts ready to go under the tree. Presenting your products in such a way not only provides a better customer experience, but also reinforces your brand.
As a small business, the festive season isn't just about wrapping your products in colourful, festive paper. It's a great opportunity to take your branding to new heights. Instead of exclusively relying on Christmas colours like red and green, for instance, you can turn your brand colours into festive, high-end boxes, tape and more. That way, your packaging truly reflects your story and who you are as a business.
Here at VistaPrint, we want you to get your order as quickly as possible, especially for the festive season. Still, it's important to consider the delivery delays that might result from the Christmas rush. So, it's generally a good idea to order your custom packaging at least a month before Christmas. Not only will you get to avoid the fuss of delivery delays, but you'll also get more time to be creative with how you use your packaging once it arrives.
It's easy and fast. At VistaPrint, we offer different design options.
Browse our wide selection of templates and choose one as a starting point. Then upload your logo, add your text and approve your design — your custom design will be ready in no time.
Alternatively, work with one of our design pros to help you create a one-of-a-kind Christmas packaging design from scratch.
There's no additional cost. All our Christmas-themed templates are free to use if you meet the minimum order quantity. You can get started with as little as 1 custom-printed postal box or 10 thank you cards.
---