You've secured a physical location for your new business and just finished displaying your amazing products for all to see. You may be thinking that signage is the next step, and you'd be right — the importance of signs, banners and posters for a new shop cannot be understated. But where do you start?
Given the range of available products, the specific types of signs you use can play a truly critical role in your shop's success. Whether you want to increase foot traffic to your establishment or grow brand awareness, there's a perfect sign (or multiple signs) out there to help you meet your marketing needs.
You may already be overwhelmed with all the to-dos that come with launching your new business. But it doesn't have to take a lot of time or require a big budget to get the right signage for your needs. Easy-to-customise signs are just a few clicks away, leaving you with more time and resources to handle other demands that require your expertise and insight.
Let's get into all things signage, starting with the potential benefits.
Why your small business needs signage
As a new small business owner, you may have already got yourself a website domain name and have ideas about how you want your site to look. But if you haven't given the same kind of consideration to your physical business signage, you're missing out on an incredible and cost-effective marketing opportunity.
Is signage really all that important for a new business? Think of it this way: Marketing experts like to point out that your website works for you 24 hours a day, seven days a week, all year long. But guess what? Your business's signs work just as hard for you — and often in a cheaper, lower-maintenance way.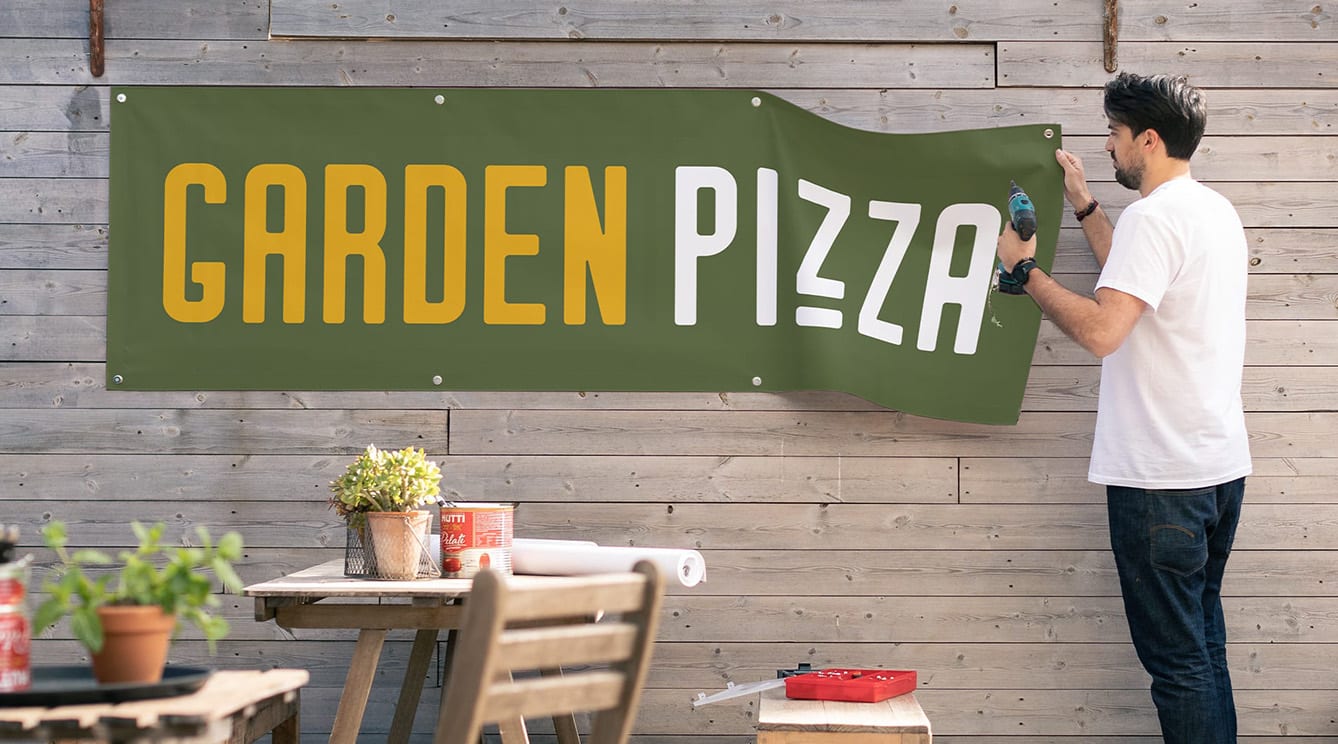 If you're not quite sold yet, here are just some of the ways signage can benefit your small business:
Increase your visibility. Customers and clients can't flock to your business unless they know it exists. Signs are a great way to accomplish this. Whether it's an A-frame attracting the attention of the foot traffic outside your entrance or an exuberant window decal that matches the vibe of your logo, signage is an effective way to let customers know you're there.
Make you stand out from the competition. Do you know what sets your cupcake shop apart from the bakery down the street? Whatever your niche or secret is, the cupcake aficionado strolling by your entrance needs to know it too. When your business is new, potential customers may not realise what's special about your business — but that's what signage is for. Even a simple menu board promoting the cupcake of the day can do the trick.
Promote a sale or event. It's a good marketing strategy to continuously promote what's coming up next from your business. Whether it's a sale or an event, promotions are a great way to draw new and existing customers to your business. And while you may or may not have a portion of your budget set aside for online ads, it's good to remember that physical signs can serve your purposes well too.
Build brand awareness. Boosting consumer awareness of your brand increases trust in your business. According to a recent Salsify survey, 46% of consumers say they'd pay more to purchase from a brand they trust. Signage that's designed to be consistent with your brand is great way to grow brand awareness and increase consumer trust in your products or services.
Let people know you're open for business. Even with map apps and GPS navigation, finding the right door in a sea of doors can be a challenge. A potential customer won't become an actual customer until they step over your threshold. Your signage can help lead a customer inside your location before their eyes and attention are caught by a distraction — or worse, a competitor.
Factors to consider when planning your signage strategy
Some of the factors you should consider when deciding on signs for your business include:
Marketing strategy. How do you want your business's signs to fit into your overall plan? For example, do you want signs that will function as ads or will you use them to convey operational information?
Brand identity. Brand consistency is important. The design and aesthetic of your signs should match that of your brand — not only in terms of your colours and logo but also your business's character and atmosphere.
Budget limitations. Signs are a cost-effective means of marketing, but knowing how much you can spend will help you narrow your list down to viable choices that fit your budget.
What works best for your space. The type of signs you select will depend on your space and how permanent vs. portable they need to be. For example, the best signs for a permanent brick-and-mortar space will be different from the best signs for a stall at a market or a shared retail space. It's also generally a good idea to map out where you'd like your signs to go (e.g. above your front door, in window displays, on the pavement, above the till, etc.). This enables you to determine spatial limitations that may affect your design and size choices.
Best types of signs for small businesses
When it comes to small business signage, your options might feel limitless. So how can you choose exactly what you need?
The signage that will work best for your small business depends on what your business is — there aren't any one-size-fits-all signage rules. But these are some of the most popular small business sign options:
Outdoor signage
With their ability to catch the eye, outdoor signs help to visually put you "on the radar" of passing pedestrians and road traffic.
A-frame or sandwich board. Whether you want to promote an event, announce a sale or highlight a new product line, A-frames are versatile outdoor signs that can be put to multiple uses.
Banners and flags. These are ideal for drawing attention and increasing your visibility. Whether you're setting up at a trade show or want to promote a weekly special, they can be an effective, eye-catching way to get your business noticed.
Window decals or graphics. If your business location has a window to work with, decals can be an excellent way to keep customers informed about your hours, your latest specials, sales messaging and more. You can also use decals to display your logo to build brand awareness.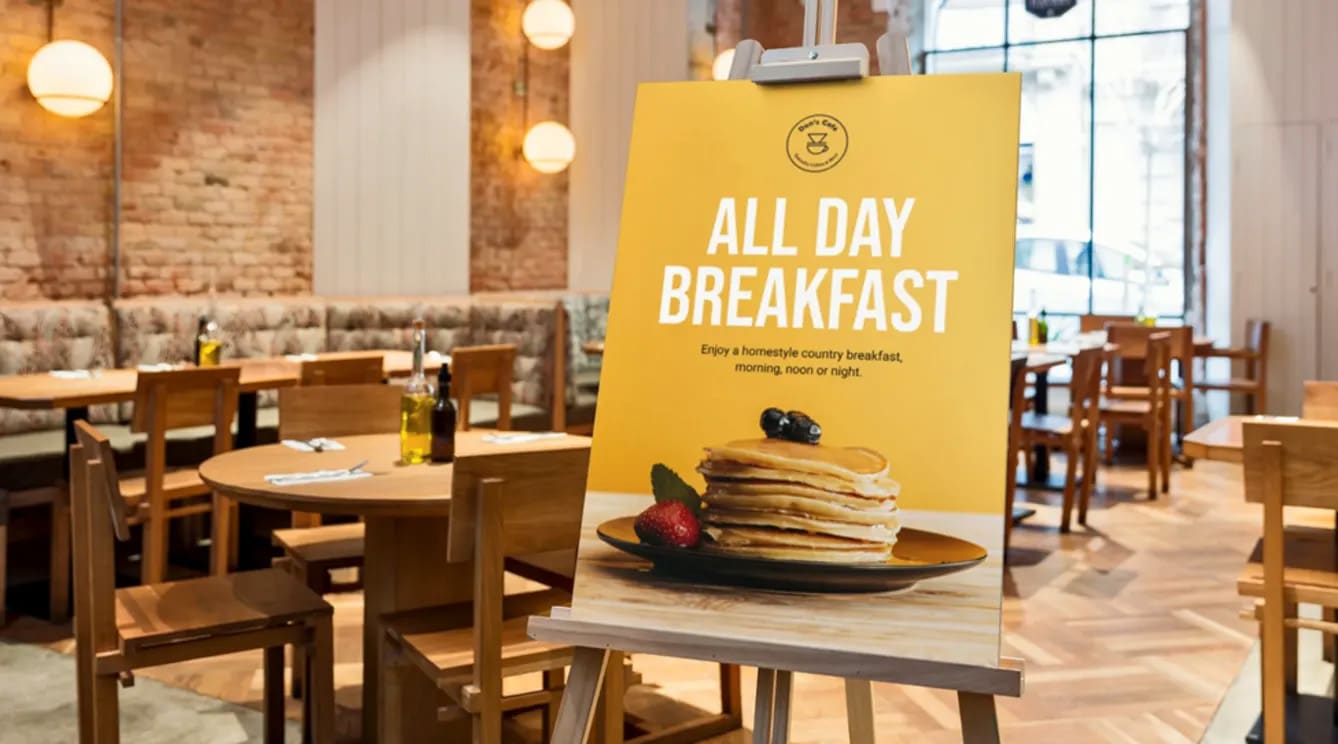 Indoor signage
A vast assortment of indoor signs are available, and they're versatile enough for any number of uses. These are some of the more commonly used indoor signs:
Posters. Posters are another versatile type of sign that can be used anywhere you have a wall or window. They're great for promoting upcoming events or for adding an affordable pop of brand-enhancing colour.
Floor decals. Don't have much wall or counter space for signage? With floor decals, you can make use of your walkway space for promotional purposes or to provide information or directions.
Digital signage. Digital signage includes screens in a variety of shapes and sizes — which means you should be able to find a digital sign for whatever space you have available. They're an appealing way to display text and images and the content you can program into them is limited only by your creativity (and the need to stay consistent with your brand).
Industry-specific signage use cases
Now that we've gone over some of the best types of signs for small businesses, let's explore the versatility of small business signage in a few different industry-specific use cases.
Beyond figuring out where you want basic signage around your business site, you'll want to consider ones that cater more to your particular kind of business. A clothing boutique, for example, has different signage needs than a coffee shop or lawyer's office. Here are some of the most common use cases to get you thinking about what you need.
Restaurant and bar signage
Signage for food and beverage businesses can perform many functions. Whether you want to highlight daily specials, enhance the dining experience or tempt hungry passers-by, there's bound to be a sign that will meet your needs.
Menu boards. Many establishments use menu boards, with one of the most ubiquitous being a chalkboard style. Whether hung on a wall, attached to a window or propped up on the pavement outside, these signs can help you highlight your best offerings or tout special deals.
Outdoor banners. Want to advertise your £1 Muffin Mondays or Wednesday Happy Hour? With banners, you can promote regular weekly specials or events with a splash of colour or your logo, prominently displayed.
Car door magnets. If you offer delivery, car door magnets are an easy way to brand your delivery drivers' vehicles while they're on the go. When they're out delivering orders, they're also effortlessly advertising your brand.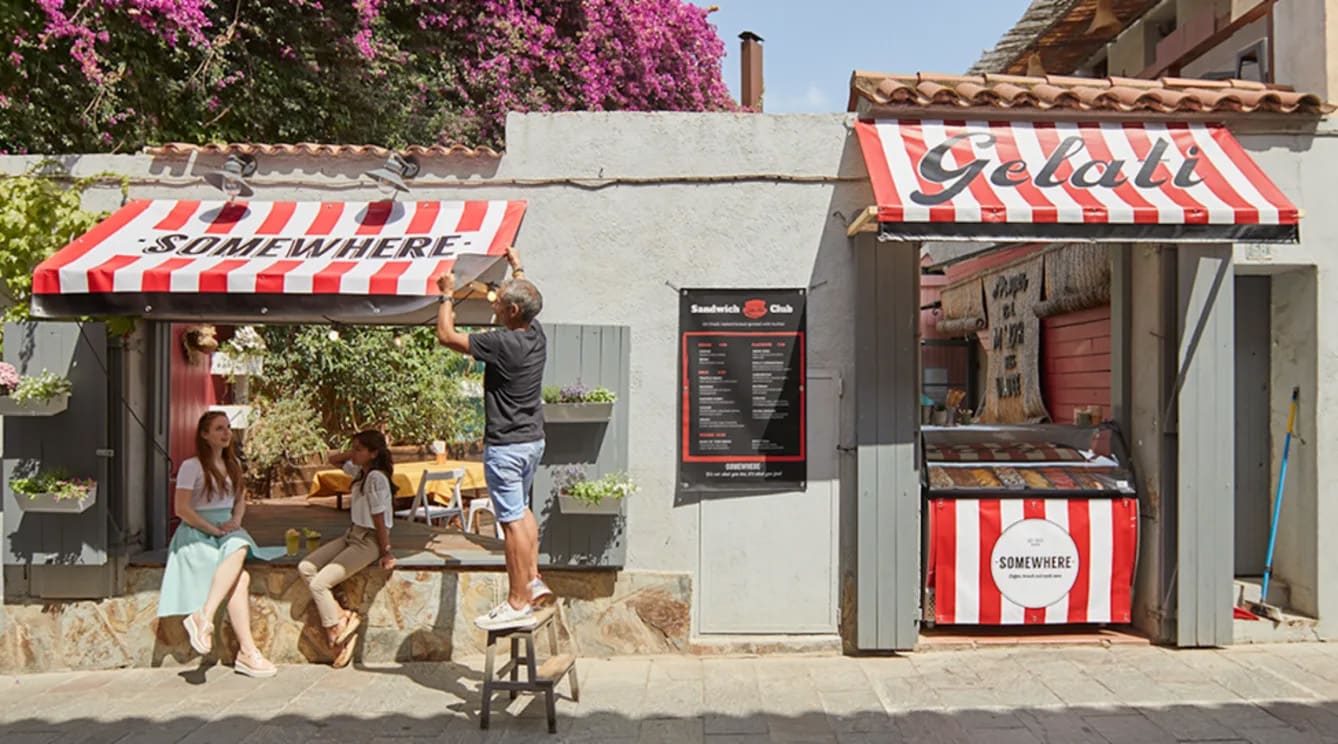 Retail shop signage
Signs can have a significant impact on your in-store customer volume by drawing in that all-important foot traffic. And with signage's ability to increase sales, it's clear what a big role signs can play in your small business's success.
Silent salespeople. Informational labels and displays can give customers the sales or product information they need, turning these signs into what marketers often call 'silent salespeople'.
Floor decals. The corridors between your inventory shelves can be an ideal space for floor graphics to promote a sales event or to direct customers to different areas of your shop.
Checkout signs. Your customer might be in your shop, product in hand, wanting to buy. But if they can't find their way to the till, that sale might never take place. Till signs, whether in the form of posters, floor decals or placards hanging from the ceiling, make great navigational aids.
Salon signage
Salons don't only provide beauty services; they usually also aim to provide customers with an experience. With the right signage, you can have an effective, cost-friendly way to enhance the ambiance underlying a salon visit, all while promoting your services.
Digital signage. Is your salon located in an area that has a lot of foot traffic? You can use digital signage for high visibility. For example, you might display your latest discounts and promotions with other text that encourages walk-ins.
A-frame signs. A-frames are another great way to take advantage of a high-traffic location. You can capture drop-in customers who see your sign and are reminded of the fact that they've been meaning to get a haircut, massage or mani-pedi or who are enticed by a special, limited-time discount.
Price lists. Displaying your offerings with their costs can be an effective marketing tool. You may already have a pricing page on your website. You could transform that list into a window or countertop sign and potentially inform customers about service or product add-ons.
Signage is a prime marketing tool that belongs in every small business's marketing toolkit. Whether you want to increase your on-street visibility, build brand awareness or promote your specials, you can use a variety of signs to your advantage as you journey toward success as a new small business owner.