Estimated reading time: 4 minutes
Christmas is right around the corner. and for retail businesses, the festive season also happens to be the busiest season of the year — and the biggest opportunity to drive sales.
At this time of year, small businesses are doing everything they can to get customers through the door for Christmas shopping… and it can be challenging to break through the clutter to connect with your ideal customers and grab their attention. With a little effort, you can get organised, get ready for Christmas and take the steps you need to help your retail business stand out and succeed.
Here, discover the festive marketing items you need to prepare your business and stand out during the festive season – plus bonus tips to make the most of the busy season.
1. Hang a vinyl banner (or two!).
Vinyl banners are one of the most versatile marketing tools for retail businesses. They come in a variety of sizes, which allows you to advertise in large and small spaces. You can use them inside or outside your shop to get customers excited about sales, events or new products. If you want your banner to double as décor, choose a festive template or add some Christmas-ready motifs to your design – along with your logo and business name, of course.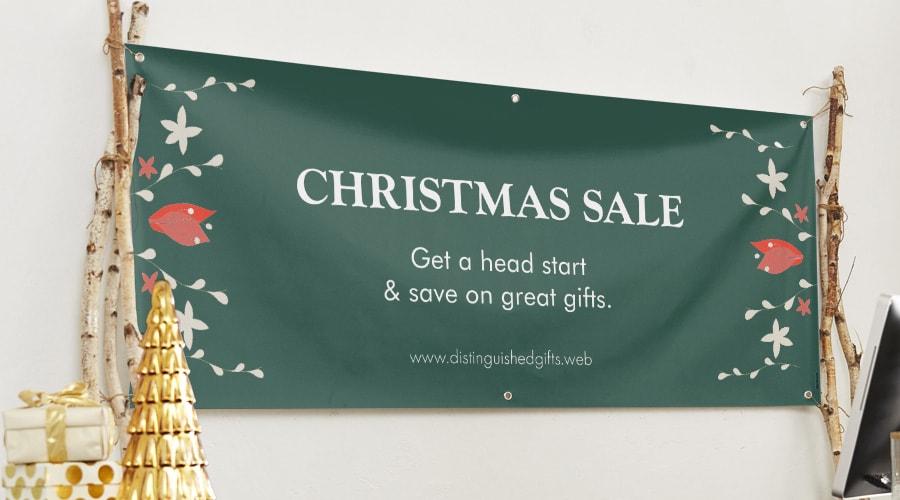 Heading to a Christmas market or craft fair? Get your setup in festive shape with a new banner.
2. Stay top of mind with flyers.
The customers who are shopping in your store *before* peak season are typically the customers who are the most likely to shop in your store *during* peak season —so you'll want to give them information about what you've got going on for the Christmas while they're shopping right now. Flyers are a great way to share details about upcoming Christmas events, deals and sales. Keep a stack of flyers by the register or hang a few in your storefront window and around the shop. Or, if you want to make sure every customer leaves with a flyer, you can stick one in their bag after they make a purchase -include a coupon or promo to entice them to make a repeat purchase.
3. Encourage return shoppers with loyalty cards.
As a small business owner, you already know that Christmas is the busiest shopping season of the year. Why not give your customers the incentive they need to do all that Christmas shopping with you? Loyalty cards are a great way to drive business during the festive season… and all year round! Create one by using a standard business card template for the design — feature your logo, business name or other relevant information on one side of the card. Then, include boxes for stamps or punches on the other side. Hand them out and let your customers know that they'll earn a punch or stamp for every purchase. Once they hit a certain number of punches or stamps, they'll earn a special gift (like branded merchandise or a discount off their next purchase).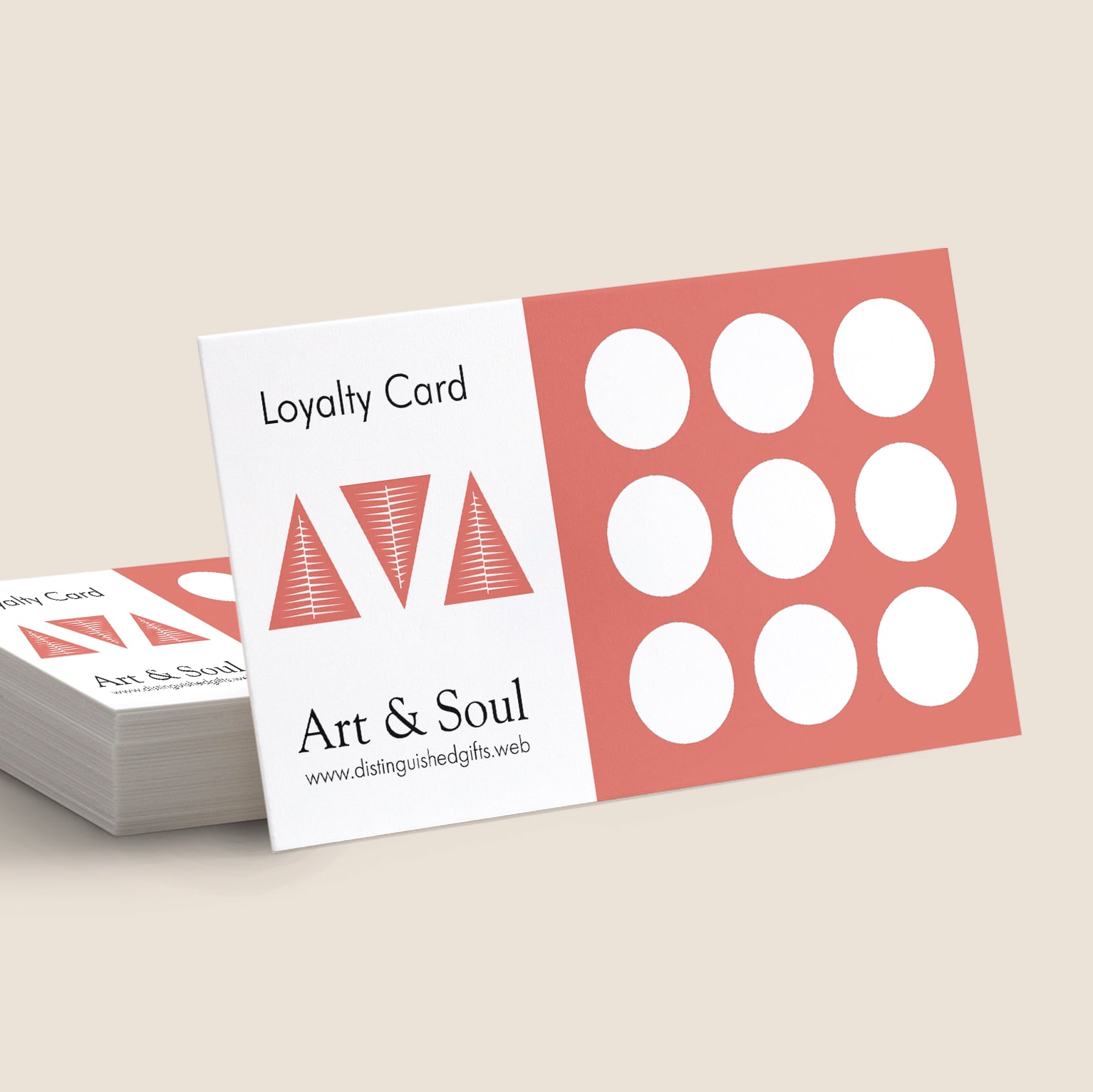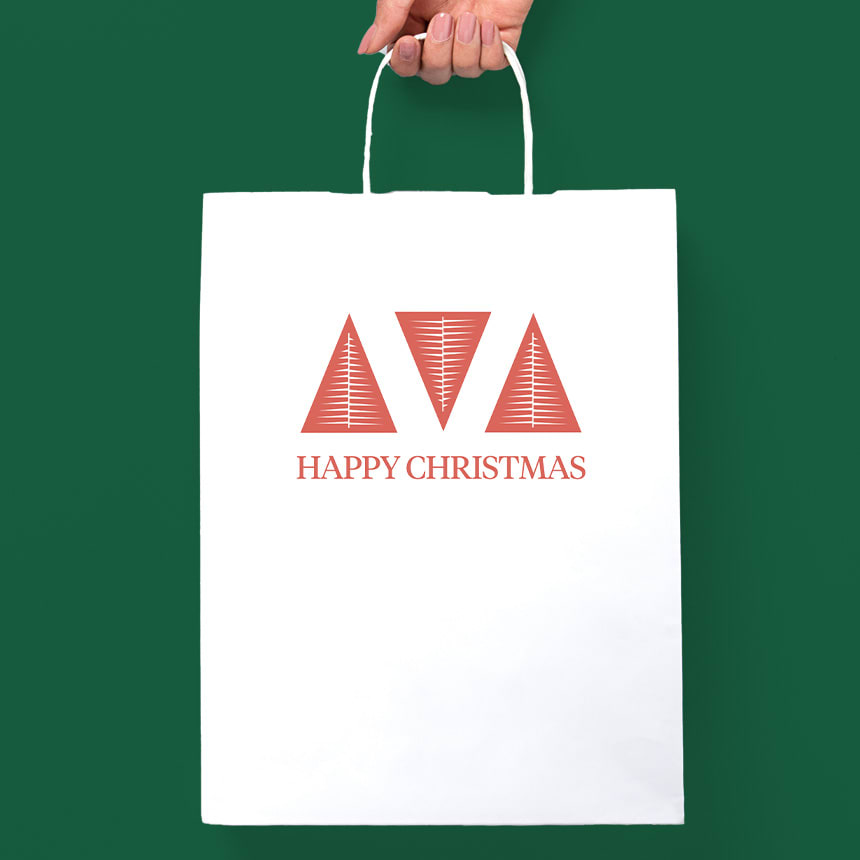 4. Invest in branded packaging.
Christmas shopping doesn't take place over a day, or even over a week. Many customers spread their shopping throughout the season. So, if you want to stay top of mind – and encourage your loyal customers to come back for more Christmas shopping – invest in branded packaging. When customers see your packaging (maybe a branded paper bag or a box with a logo sticker), it will remind them of the experience they had with your business and get them back through the door. The same goes for posted orders… instead of using a generic box, branded packaging will remind your customers where they scored that awesome Christmas gift and keep you top of mind after the season's over too.
5. Think outside the box with your Christmas promotions.
Deals are everywhere during the festive season – every retailer is going to have some sort of sale, event or promotion to draw customers in. If you want to stand out, *now* is the time to start thinking about your own Christmas sales strategy. Don't be afraid to think outside the box and try something new and different. Maybe instead of offering 15% off all merchandise, mix things up and give your customers an opportunity to spin a wheel that contains a variety of shopping incentives — like 20% off their total or a gift with purchase.
6. Use your shopfront as an opportunity to stand out.
During peak season, people are constantly out and about doing their Christmas shopping – and your shopfront offers you the perfect opportunity to stand out, grab their attention and drive foot traffic into your shop. So, go all out! Showcase your best merchandise, add posters to advertise Christmas offers, create a festive mood with Christmas decorations…the sky's the limit! The more your shopfront stands out, the more likely people will be to come inside and shop.
When customers walk by your shop, you want them to know who you are. Adding a window decal to your shopfront is a great way to show off your brand to shoppers on the street – and share information about your business hours too.
7. Get your online presence in shape.
Your physical shop is a great way to grab people's attention during the festive season. But don't forget about your digital shopfront! To fully deck out your website for Christmas, make sure to change your design to reflect the season and what you're doing in store. If you're going with a snowflake theme on your shop's windows, why not add a snowflake-inspired Christmas banner to your site's homepage? This kind of consistency builds credibility for your small business and feels oh-so festive. You can also get creative with Christmas content on your social media channels, whether it's a '12 Days of Giveaways' promotion or a gift wrapping BTS on TikTok.