Estimated reading time: 8 minutes
Until you start a business, it's easy to take signage for granted. After all, every time we venture outdoors, we're surrounded by it: An estate agent's sign at a neighbour's gate, a banner announcing a restaurant's grand opening or a car magnet on a florist's van beside you in traffic.
Before you launched your venture, you probably didn't think extensively about small business signage. And that's for a good reason: a 2020 study published in Frontiers of Psychology found that much of the impact of visual branding happens unconsciously. Even if you didn't realise it, a well-crafted custom business sign might be why you suggested your neighbour's estate agent to a friend, recalled that new restaurant while making lunch plans or selected that particular florist when ordering a birthday gift.
Signage is incredibly influential, so it's not surprising that many business owners learn to prioritise their signs. But where do you start? How do you create professional and captivating signage that reflects your brand if you don't have design or printing expertise? And how can you get all the high-quality signage you need without going over your budget?
The good news is there are plenty of resources and solutions to help you create the signage you need without overspending. Let's cover everything you need to know to achieve success with your signage.
Why are signs important for small businesses?
Signage should be near the top of your checklist when starting a business — after all, focusing on your signage early can have a positive impact on how quickly you achieve your growth objectives. That's because visuals significantly impact how effectively businesses get their message across…especially if your business is in its early-growth stage or expanding into new markets.
Small business signage is vital to accomplishing major business goals, including:
Earning brand recognition
Attracting target audiences
Establishing credibility
Standing out from your competitors
The presence and quality of your signage can also impact whether or not a prospective customer takes the next step. Leveraging high-quality, well-designed and aesthetically pleasing flags, banners, displays and other types of signs will help you earn buyers' trust and pique their interest.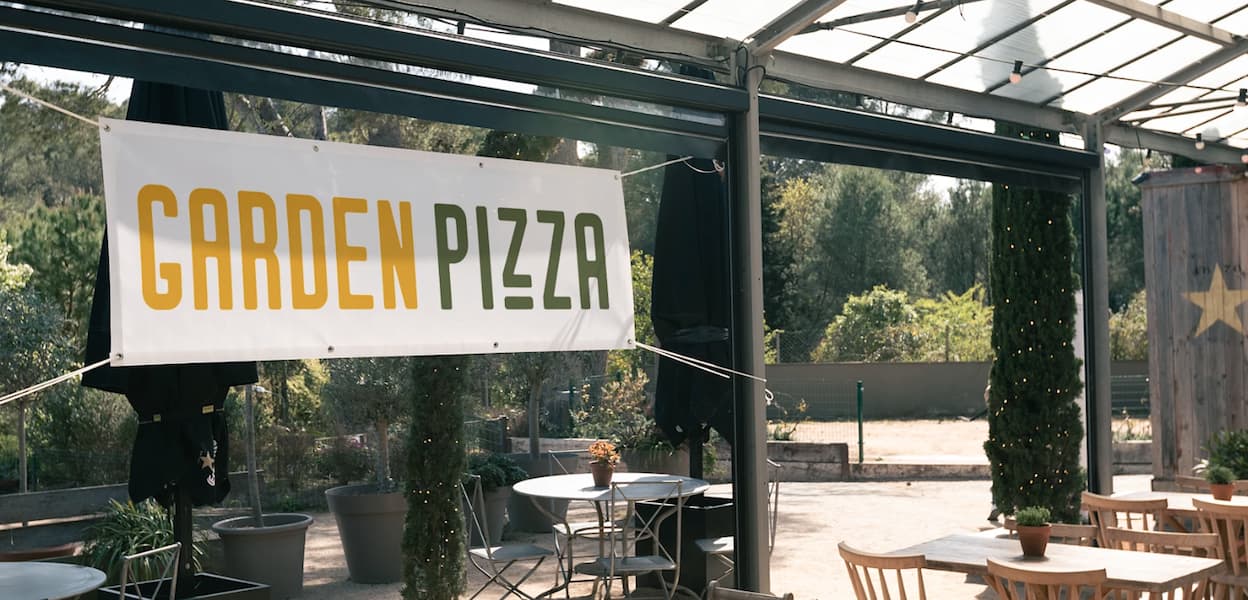 Each element of your signage plays a different role in helping you grow your business. Here are a few ways you might use your signage:
Promote events. You can use signage to inform customers about your grand opening or an upcoming sale.
Generate brand recognition. Signage is a great way to familiarise audiences with your brand name and logo and to share contact details like your website or phone number.
Share announcements. Your business may rely on signage to communicate to the public that you're hiring or will be closed for an upcoming public holiday.
Assist with wayfinding. Signs can help customers navigate your brick-and-mortar location and find toilets, stairs or specific departments.
Attract event traffic. You'll need branded display materials if you're hosting a stand at a trade show or market…flags and retractable banners are great options for attracting foot traffic at events.
Your signage should always work together. Using a cohesive visual identity across all signage (including the same fonts and colours) helps your brand appear polished, trustworthy and recognisable.
How can custom signage support your company's growth?
Whether you've recently launched your business or it's well-established and you're looking to expand, it's essential you factor signage into your growth plan. And beyond stock options or a simple 'Open' sign, investing in custom signage will help you meet several objectives.
In addition to the general benefits above, here are seven advantages of using custom branded signs with examples included:
1. Communicate your value proposition.
The right combination of brand-aligned imagery and concise copy can help prospective customers better understand the value you'll provide them. For example, a bistro owner might leverage an A-frame sign outside the front entrance to let potential patrons know they source ingredients from local farms or offer vegan menu options.
2. Increase visibility and foot traffic.
Well-placed and well-designed signage can help you attract prospects walking or driving by your brick-and-mortar location. Captivating banners and displays can lure potential buyers into your shop and get them excited about your products or services. This can be particularly useful for recently opened businesses or those with new offerings — for example, a brewery may hang a large vinyl banner to announce its just-opened beer garden.
The simplest signs are often the most powerful. Use a bold pop of colour to capture customers' attention and keep your message short and sweet, so it's readable from near and far.
3. Boost your brand consistency (and profits).
Signage can help you deliver a cohesive brand experience from the moment customers step foot into your shop or find your event stand, which can significantly improve your profits. One study found that consistent branding increased revenue by as much as 33%. So, keep the look of your signage consistent whether you're hanging a banner in your shop's window or setting up an A-frame sign at a local market. Use the same colours, fonts and design elements to create a cohesive look and feel…wherever your customers find you.
4. Increase brand awareness and trust when you're on the go.
Branded signage can help prospective customers learn about your business and encourage them to explore further — especially with strategically placed car and window decals. For example, a mobile dog groomer may use branded car magnets with their social media handle to gain extra visibility when travelling to and from client visits.
Make it easy for potential customers to find you online with signage that leverages a QR code. Add one to your car magnet so customers can scan it from your parked vehicle and find all of your contact information.
5. Promote upcoming sales, events and loyalty schemes.
Signs are one of the best and most cost-effective ways to inform your customers about happenings within your business, such as a sale, on-site event or new scheme. For example, a fitness studio might place tabletop signage or posters in its reception area and changing rooms to remind members about its referral programme perks or membership upgrade benefits.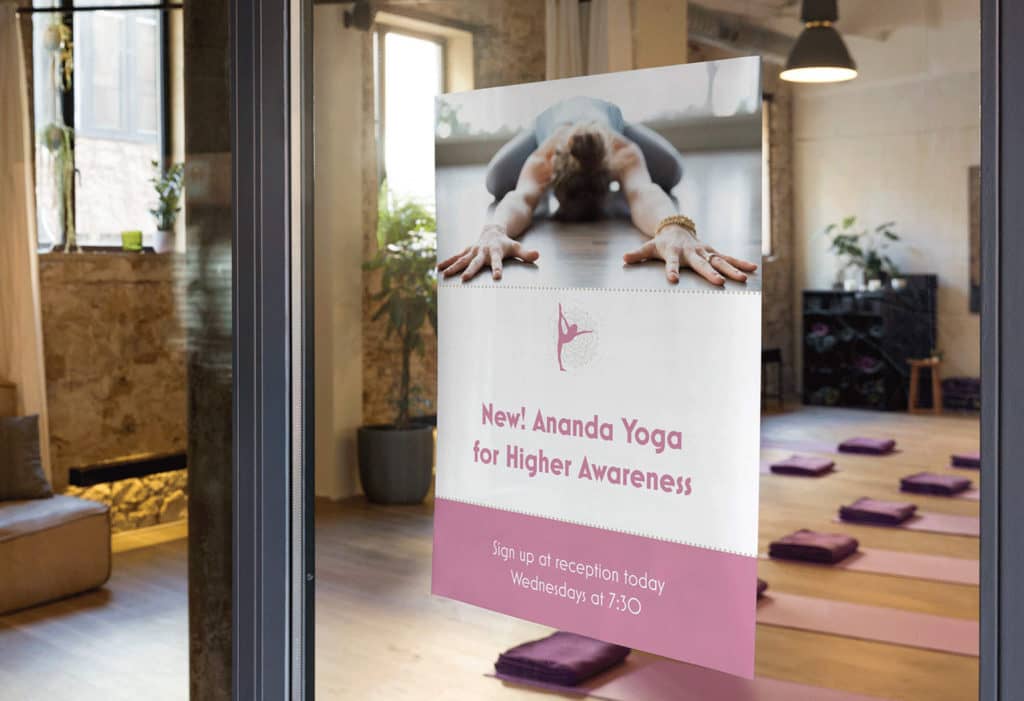 6. Ensure you stand out from the competition.
Signage is a great way to showcase your brand voice, tone and values and help set your business apart. For example, when participating in a wellness expo, a personal chef might rely on colourful branded banners and pop-up displays near their stand to help explain how their service is healthier, more cost-effective or more convenient than similar brands. This ensures essential information reaches everyone who passes by — even those who only see you in passing.
7. Increase your reach while staying within budget.
Thanks to their reusability, signs are an excellent way to earn unlimited and ongoing impressions for a one-time investment. A well-considered signage strategy can help you amplify your brand and leave plenty of funds for other efforts. Plus, reusing that same eye-catching banner at every local event you attend will make it easy for loyal customers to find you, and build brand consistency for everyone you encounter.
What are the main categories of small business signage?
With all the small business signage options available, there's something for every type of business, event and budget. But how do you know which custom business sign to select for each purpose? And what are the best types of signs to market to your unique audience? Here are the primary categories of signage you should consider along with their differentiating characteristics.
Outdoor signs
Outdoor signs for small businesses include weather-resistant plastic signs, flags and A-frame signs (also called sandwich boards) for placement outside your brick-and-mortar locations or at a community market or fair. Think durable materials and colours that don't fade.
Banners
Banners have many different purposes, but similar to outdoor signage, they're primarily displayed to get a bold message across outside your shop front or at an event. From sturdy, all-year vinyl banners that are designed to last to lightweight and foldable polyester fabric banners that are great for short-term use, banners will help you get noticed.
Posters
Posters are often displayed to communicate specific messages or news in an easy, lightweight and affordable format. Small businesses can use posters to communicate health and safety information, share with passers-by that you're hiring or preview a seasonal promotion.
Foam board prints are an affordable, but equally customisable, alternative to banners for limited-use signs.
Trade show and event signs
This type of signage includes a range of options — from A-frame signs to pop-up displays to retractable banners — that are well-suited for expos, conferences, trade shows and other events where you need to attract passers-by with bright, bold colours and brand messaging.
Car signs
If you have a mobile business or delivery service, adding car magnets or decals to work vehicles is an affordable way to create a more polished, professional look and increase brand recognition. Along with car signs, consider passing out bumper stickers to further promote your business on the go.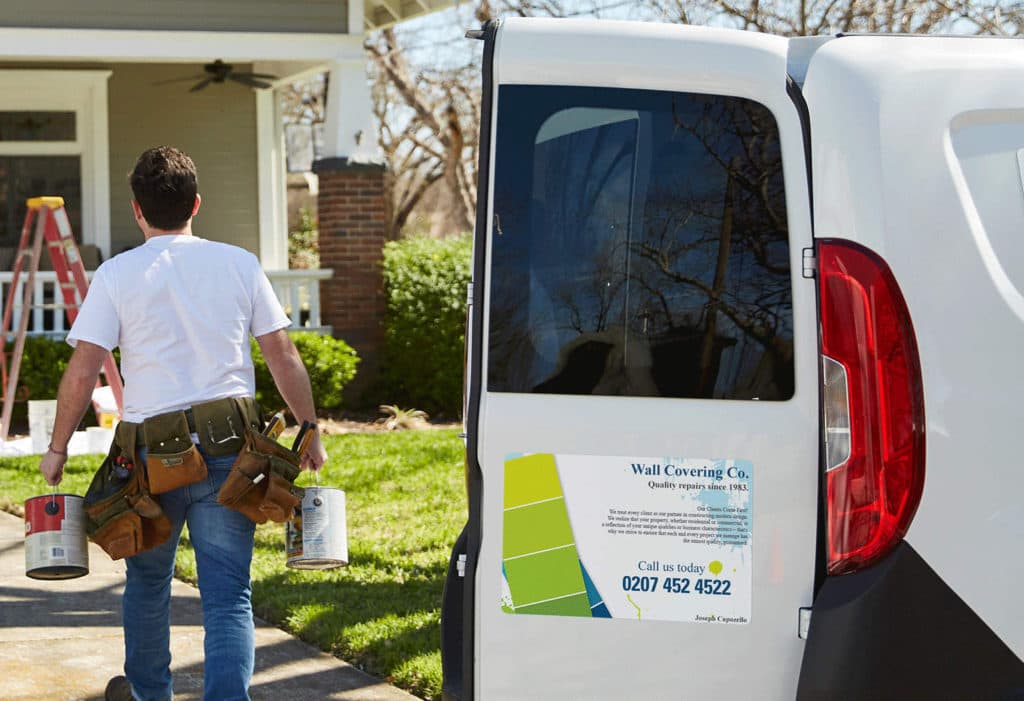 Decals
Decals are an excellent way to communicate your brand's personality, your key messaging or important safety information to customers using otherwise unused visible surfaces, such as windows, walls and even floors.
Rigid signs
Rigid signs are signage assets designed for more permanent uses, such as parking instructions or directions. With a range of material options such as plastic, clear acrylic and metal, rigid signs show that your business is here to stay.
Table covers
Tabletop signage is often used for event needs, such as check-in tables or trade show stands. Go with a full-size coloured tablecloth to wow passers-by or add a simple pop of branding to your event stand with a more affordable table runner.
Small business signage is an essential component of your physical branding and overall business growth plan. Selecting the right signage can help you reach a wider audience and capture your target customer's attention, and repeated exposure to your company's visual identity will keep your business top of mind for lasting success.