The internet is home to our favourite binge-worthy TV shows, our go-to social media sites and so much more. Given its prevalence in nearly every aspect of our daily lives, including online shopping, it's a powerful tool for new business owners looking to increase brand awareness, improve customer experiences and close sales. Smart small business website development is the cornerstone of building your digital footprint.
However, if you're like many small business owners, the idea of getting started with a website can be intimidating. You may not have any experience with creating a website, and you probably already have a full plate. Plus, the solution you land on will need to work with your limited time and resources. But rest assured: building custom websites for small businesses is easier than ever. By following a few simple best practices and leveraging design and website creation tools, you can achieve your goals on budget and with no added stress.
Let's explore how to make a website for a small business that delivers sales and engages customers — and how to find the right tools to meet your needs.
1. Make a powerful first impression.
First impressions matter. Your website is one of your brand's most important digital assets, and one of the essential elements of your website is the homepage. It's typically the first thing visitors find when looking for your business on the internet. A unique and eye-catching design that showcases your brand elements in a streamlined way will capture their attention and welcome them. Colours, imagery and layout are all crucial factors.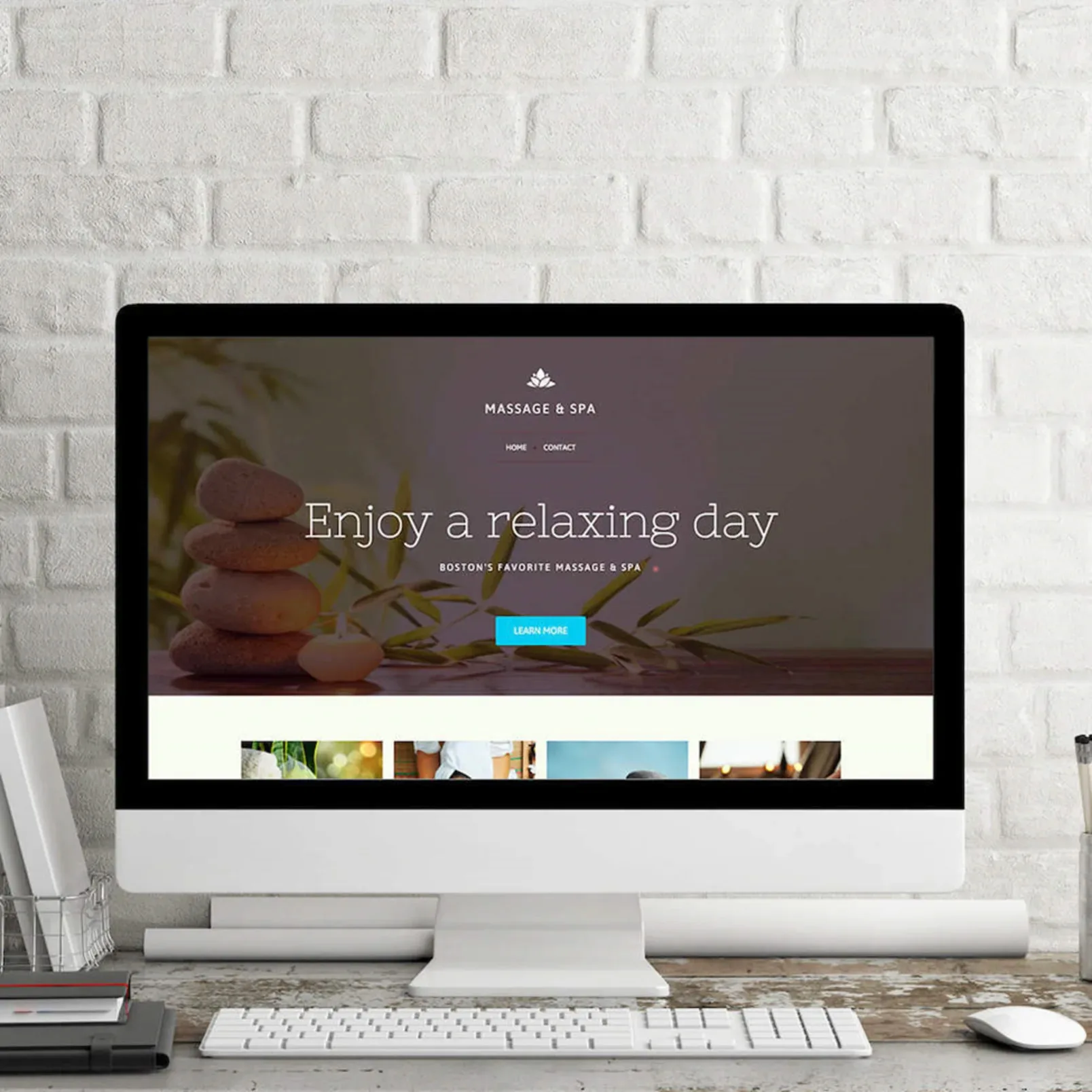 Your homepage should also feature a clear value proposition. Explain what you're offering to customers. For example, your business might be a spa providing cutting-edge cosmetic treatments at affordable prices, or a plumbing company with emergency technicians available 24/7.
These promises can resonate immediately with customers and clients. Ask yourself whether someone visiting your website for the first time would understand what your company does and its core promise to buyers. If the answer is no, then you have some room to refine your design and text elements.
2. Showcase your brand.
Carry your offline brand through to your website. Your small business website design can include a range of brand elements, such as your logo, tagline, colour scheme, layout, photography and other visual elements.
Advertising banners or print marketing that you've used previously can inspire a design direction for your website. For example, if you have a trusty shop-front sign that customers have responded well to, you could leverage the same design for your website homepage to draw in online traffic.
What's more, make sure to show off your brand throughout your website. A consistent brand presence delivers a cohesive customer experience across touchpoints and makes your business easy to recognise.
It's natural to feel a bit lost or uncertain when launching a website or developing your visual brand, especially if you're not a designer. But you don't have to go it alone. If you need help developing your core brand or translating your vision to a digital storefront, there are solutions that can help.
Creative platforms connect you with designers who can work on branding and logos, customising webpage layouts and even creating social media assets. Many platforms also offer do-it-yourself templates that let you tackle design on your own with professional results, making web design for small businesses easy.
3. Tell your story with strong content.
Customers want to know your story. Tell them it by creating a detailed and personal About Us page that shares the information your buyers care most about. Consider including details such as what drives your passion for the industry, what unique strengths you offer, the previous experiences that led you to create your business and what sets you apart from your competition. Introducing your team and spotlighting your physical locations also helps prospective customers get excited about your brand.
An active blog is another way to tell your story and connect with customers. Blogs posts can answer common questions, offer up your positions on important issues in your industry, provide a sample of the expert advice customers might seek from you and highlight notable areas of your business. Regularly creating and publishing blog content is a great way to keep your business in front of audiences.
4. Set up your site for SEO success.
Search engine optimisation (SEO) refers to the steps you can take to make sure your website appears when people perform internet searches. Cultivating strong SEO practices is an ongoing process that can pay off in elevated visibility for your business. Begin by taking the time to understand what keywords matter most in your industry.
Don't overlook the power of specific product names, often-searched phrases like 'coffee shop near me' and other details — such as the city or area where you do business — that can increase your visibility. Weave your target keywords throughout any text on your pages, in your blog posts and in your website's metadata (the 'hidden' text, such as file names and picture descriptions). The built-in SEO tools that are included with easy web design solutions allow you to optimise each page of your website for specific keyword terms. Organic traffic obtained from search click-throughs can lead to greater visibility and sales in a cost-effective way as you grow your business.
5. Keep your site secure.
Customers want their data to be secure when making online purchases. Show website visitors that you take this seriously by installing an SSL certificate that can help prove that your site is legitimate and safe. The certificate provides a layer of encryption to protect the data that users send or receive over your website. A secure website will have a URL that begins with 'https'. Internet browsers will usually alert you when a website doesn't have one.
Another way to signal that you take privacy and security seriously is to make sure you have policies that are easy to review. Most websites link to 'privacy policies' or 'terms and conditions' on the footer of their website. A privacy policy simply describes what information you collect and how you use customer data. If you're not sure where to start, templates are available online which you can customise.
6. Make it mobile-friendly.
According to Statista, nearly 60% of web traffic is via mobile devices, with people using smartphones and tablets to visit websites, make purchases and read or watch content. Take the time to optimise your website for mobile devices. It should look as good on a small smartphone screen as it does on a full-size computer monitor. It's also important that any features — such as graphics, videos, apps and widgets — work on any device trying to load your website.
Creating a mobile-optimised website doesn't have to be difficult. Vista x Wix comes with built-in mobile capabilities so you can tick this step off your list with ease.
If you find you need more customisation, some platforms have editing tools that can help you cater the mobile experience to your and your audience's needs. A mobile-optimised small business design not only enhances your user experience, but can improve your SEO performance as well.
7. Build trust with social proof.
Prospective customers can be wary of doing business with new companies, especially online. Build trust with social proof such as customer testimonials, product or service reviews and awards and industry memberships that show you're a legitimate business with happy patrons. Feature social proof prominently on your website, including on your homepage and with dedicated testimonial or review pages where visitors can dig deeper.
Written and video testimonials show what your customers, clients and business partners have to say about your offerings and the way you do business. Including reviews on your website can add an objective perspective to how you're building trust. Highlight awards you've received and professional organisations you're part of, such as the Chamber of Commerce or a professional trade association. Link to social media accounts if you have them. Each of these areas is an important puzzle piece that lends credibility to your business.
8. Enable a smooth customer experience.
It's crucial for a small business website to make it easy for customers to reach out. Let people know what avenues they can use to contact you — whether that's displaying contact information, hosting a live chat feature or having an email submission form on your contact page.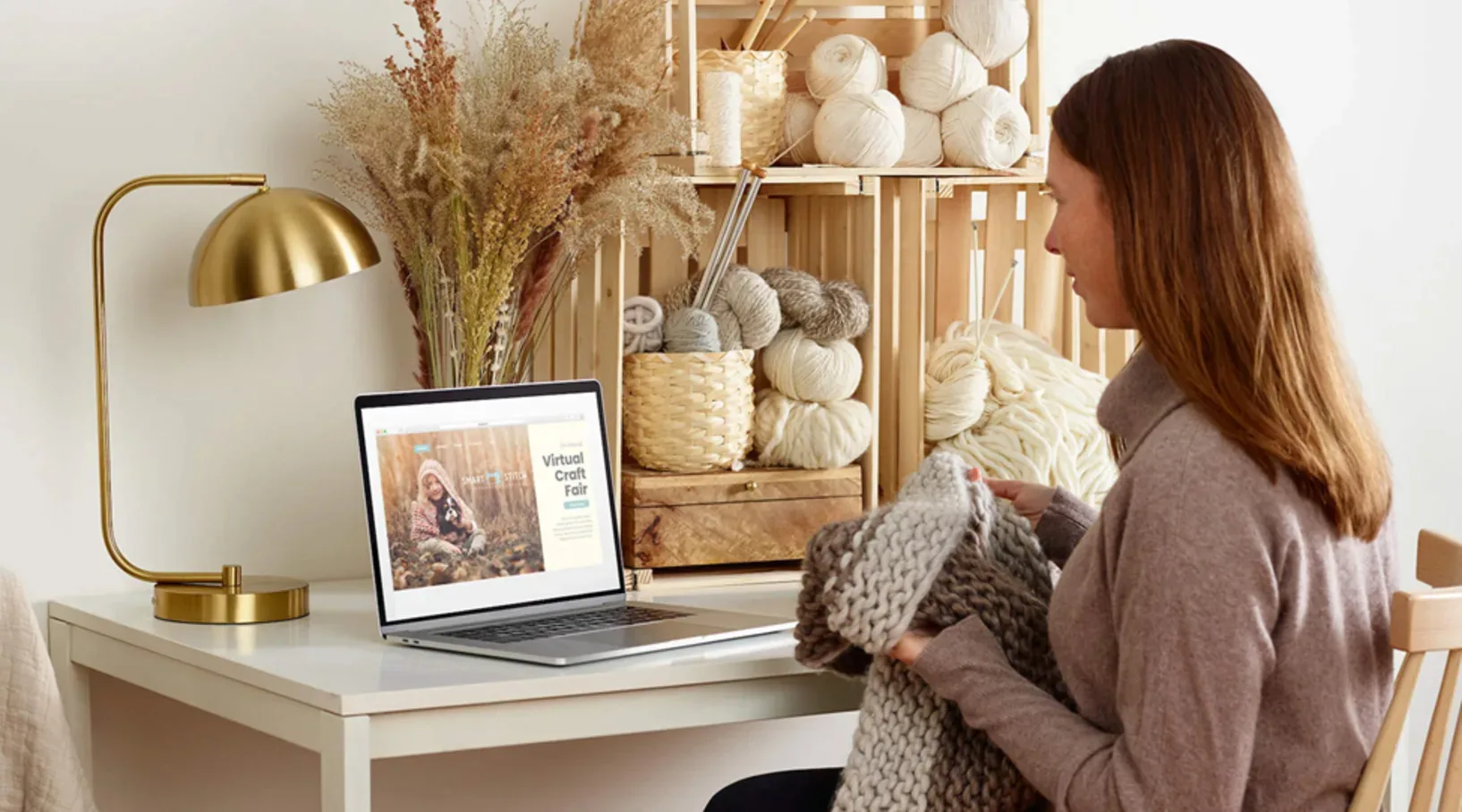 You can even go a step further with your customer experience by putting key operational processes online. For example, if your business schedules appointments or complimentary consultations, having a simple and secure booking system can streamline the process — and many customers prefer it over calling. If you sell products, having an online storefront or app on your website can give customers the flexibility to browse and buy from anywhere. Many easy-to-use website platforms and tools can help you smoothly integrate these and other features that can improve the customer experience, automate your administrative work and help you deliver cutting-edge service.
Getting started with building a small business website can seem overwhelming, but the Vista x Wix website builder can make it as easy as selecting a template and customising it with drag-and-drop functionality, making it one of the best website builders for small business. By focusing on your branding and digital user experience and getting the essential elements of a small business website in place, you're laying the foundation for future success. A small business website design that's tailored to your needs and your customers will help you reach new customers, close sales and fuel your growth in the years ahead.