Estimated reading time: 5 minutes
A sea of people are streaming through the event doors and past your booth. You want to attract, engage and connect with them all. Could event QR codes be your secret weapon?
Whether your goal is to gather the contact information of as many leads as possible or draw audiences in for deeper engagement, QR codes can help with a single click. Here's a closer look at this simple, effective way to make your business stand out from the competition and build a lasting digital connection.
4 steps to using event QR codes
To get the most out of event QR codes, it's important to bring a creative and systematic approach to your strategy. QR codes are most effective when they align with your business goals and address your unique audience.
1. Plan your QR code strategy.
When a user scans a QR code with their smartphone or tablet's camera, the code quickly takes users to a specific destination. You could drive people to your website or contact information, send them to an email list sign-up page, showcase relevant content, or provide a sanitary, hands-free way to let people access menus or product sheets. Think through your event goals and the related action(s) you want your audience to take to achieve those goals.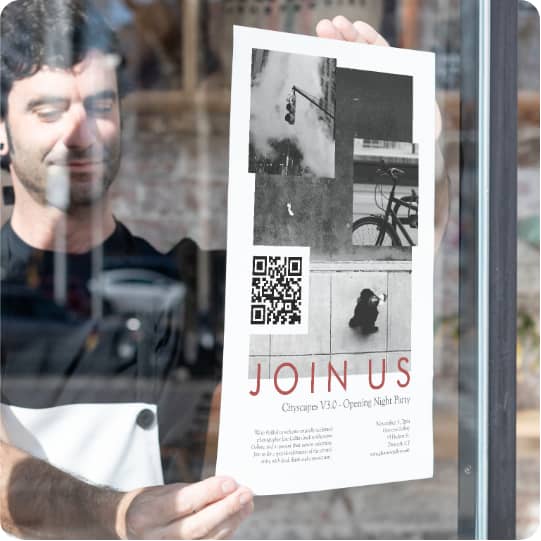 Another part of your strategy is determining where to highlight QR codes in your event setup. You can feature them as part of your booth's larger visual experience – for example, with on-brand banners or standalone signs. QR codes are also a great way to add a call to action on marketing materials or giveaways, such as folded leaflets, business cards and branded merchandise. One easy way to implement this is to make sure both your marketing materials and your event gear features a QR code.
VistaPrint Tip
Wondering how to get a QR code? Check out our free QR code generator that allows you to enter basic information, customise your design and download in minutes.
2. Use QR codes to grow your mailing list.
The steady stream of prospects visiting or passing your booth is one of the most valuable parts of any event. However, talking to everyone can be nearly impossible – especially when you're in demand! Make it easy for people to share their data with a single scan of a QR code. Feature it on a tabletop sign that passers-by can capture, or on business cards that are easy to grab. QR codes can also be added to all of your digital and printed marketing materials for accessibility both during and after the event.
QR codes can take your customers directly to a sign-up form which can gather their information for email campaigns and marketing. Use a sign-up form that highlights your logo and brand colours and provides a simple data form that's easy to navigate on a smartphone.
Consider an incentive to get prospects to share their information. You could offer an order discount or give away branded merch to anyone who signs up at your booth.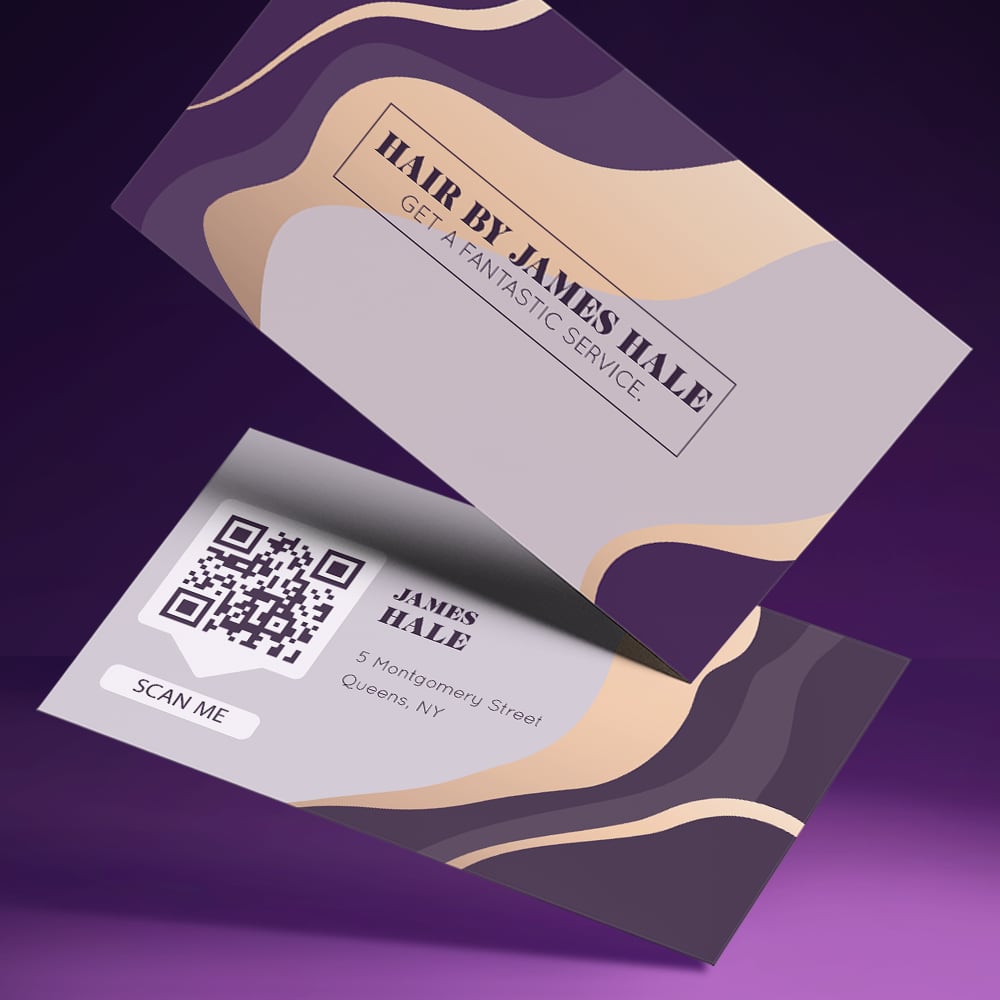 3. Drive prospects to interactive and high-quality content.
QR codes allow you to send users to engaging digital experiences – and the more interactive they are, the better. For instance, if you're featuring a specific product, you may have hands-on opportunities for customers to try out at your booth, along with a short video looping on your digital signage. Adding a QR code allows you to take prospects to a product landing page with even more information, or to a virtual demo that they can share with their colleagues. These QR codes can be included on marketing materials like flyers, wall signs and standalone signs and even on the lanyards or stickers your event staff wears.
QR codes are also a smart way to provide interesting content for attendees to view or download as a souvenir. Other ideas include a reel of customer testimonials, a simple online quiz or a relevant blog post. The key is to know your audience and use your QR codes to drive them to the content that's going to hold their interest and drive them towards longer conversations.
4. Engage with people at your booth.
Most businesses think of QR codes as a way to connect with customers after they leave your booth. But an event QR code can help you get people to stick around too. One strategy might be to create a QR code-based scavenger hunt that offers premium branded merch to anyone who completes it. Ideas could include scanning codes at your booth, finding other employees at the trade show with QR codes on their lanyards or attending a talk given by a team member and then scanning a code at the end.
QR codes can also be used to engage participants with potential giveaways or take them to an interactive experience, such as a quiz. Anyone who completes the activity – or gets a certain score – could be rewarded. At your booth, QR codes can be featured on printed signs, event banners, giveaway swag and even on selected merch for maximum engagement.
Making the most of event QR codes
QR codes for trade shows and other events open up a whole new world of connection points with customers. Use them to share information, deepen engagement and drive audiences to your most powerful marketing tools, such as your website or online demos. An effective QR code strategy can help you stand out from the competition and add a fun, fresh and modern twist to your next marketing event.