Estimated reading time: 8 minutes
Well before phrases like "street marketing" and "canvassing" were invented, flyers were already viewed as a terrific way to get the word out. Flyers (alternately known as leaflets) are mostly used today to help businesses find new customers and get the word out about various events and activities. And the best part: they're cost-effective and easy to distribute.
Whether you need help creating a flyer for an upcoming trade show or just want to spread the word about a seasonal sale, we'll go over everything you need to know about creating a flyer for your business.
How to make flyers
How to choose the right flyer size
What kind of paper to use
What information to include
1. How to make flyers
The first step in creating your flyer is deciding what purpose it needs to serve (besides doubling as an awesome paper aeroplane). Most flyers fall into one of three distinct categories, each with a unique goal that affects what goes onto the final product.
Event announcements. These are the flyers that come to many people's minds when they first think of flyers. They can range from concerts at a local club to a sale at a local bookshop and are usually posted on community bulletin boards or handed out on the street.
Product information or fact sheet. If you've ever been to a trade show, you've likely had one of these handed to you. These documents (usually two-sided) allow companies to give prospective customers an in-depth look at their products. These flyers also serve as great additions to sales packets left with clients.
General awareness. Do you have a new business? Are you looking for volunteers? These are flyers designed and intended to get the word out.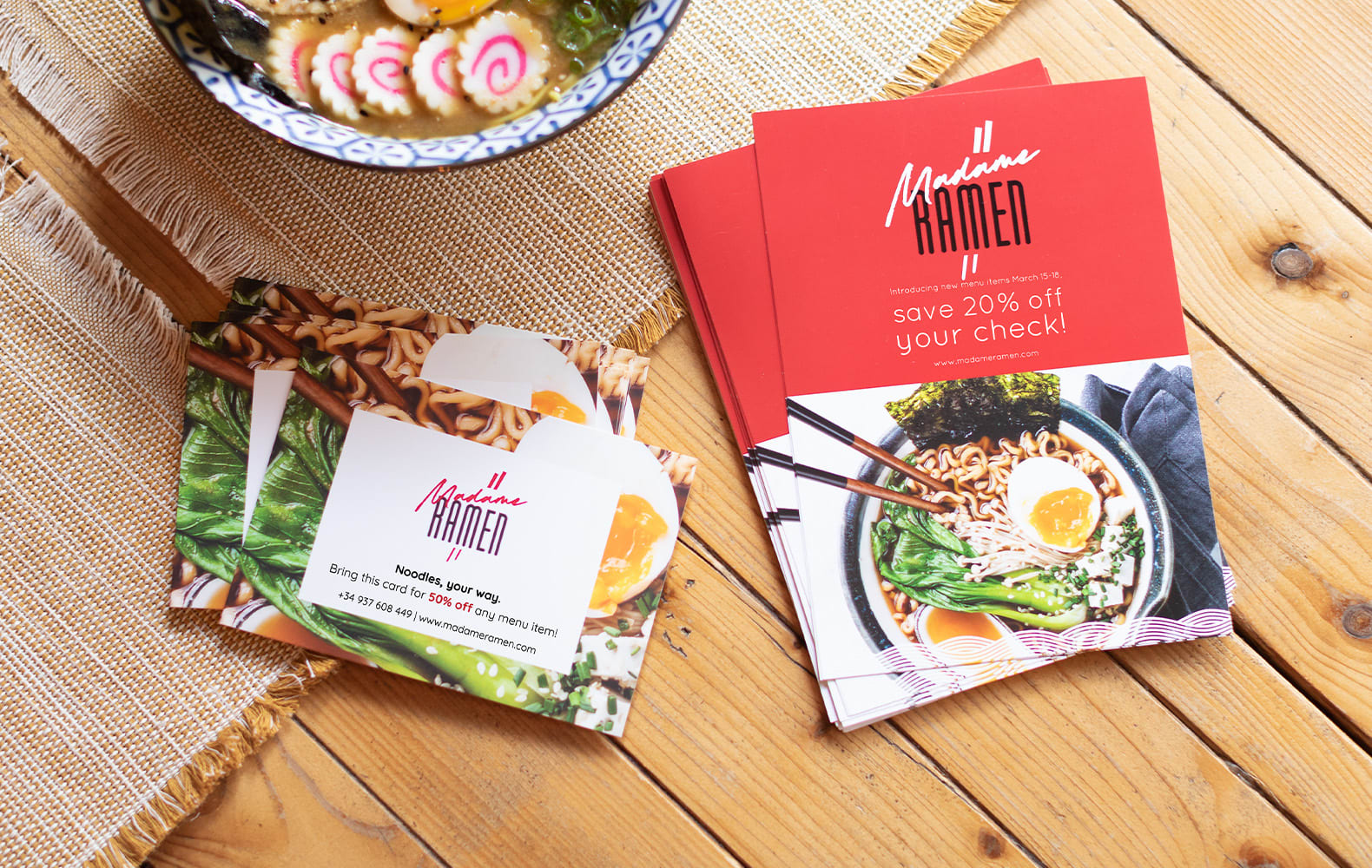 2. How to choose the right flyer size
Your flyer's intended use will affect the size of your design. For example, you might not need as much space to announce a promotion as you would for complete product specifications.
A full-page flyer (210 x 297 mm) is perfect for product sheets – you'll have plenty of space for all of your product or sales information and this is a standard size for distributing at sales events or conferences. You can print on both sides too.
Half-page flyers (148 x 210 mm) and square formats (148 x 148 mm or 210 x 210 mm) are great for sales and special events – not only do they stand out, they can also be easily inserted into a customer's bag or handed out on the street.
If you need to distribute a lot of flyers, and are able to compress your message into a smaller space, then a smaller sized flyer (74 x 105 mm or 105 x 148 mm) could be way to go – you'll get more impressions for less money.
Long flyers (99 x 210 mm) are well-suited for price lists and restaurant menus, while an oversized flyer (297 x 420 mm) creates a can't-miss message wherever you display it.
If you're creating a flyer for a sale or promotion, make sure to give your discount or deal prominence – it can even take up the full page on one side of your flyer.
3. What kind of paper to use
There's also a lot to keep in mind when it comes to paper stock and thickness… and this comes back to your flyer's primary purpose. Is your flyer doubling as a voucher? Consider printing it on thicker paper stock so customers are more likely to hang on to it. Do you want to be able to write on your flyer? Choose an uncoated paper stock that's easy to write on. Are you planning to showcase some product photography or use a lot of bright colours? Go for a glossy finish when you get your flyers printed.[1] Need a little more durability? Cover stock is the way to go, especially for flyers that are posted outdoors.
What information to include
In most cases, you don't want to go overboard with a lot of text. (The exception would be a very information-heavy product sheet). Here are some things to remember when it comes to creating copy for your business flyer.
Promoting an event? Get to the point. Flyers for a concert or club event can feature the very basics: artist names, location, date, time and ticket price. More complex events, such as farmers' markets and speaking engagements, may require additional context ("All Local, All-Organic!" or "International Best-selling Author") to engage potential customers. You can also include contact information, like a phone number, social media profiles or your website.
Add a QR code to your flyers that leads to a contact form – this will make it very easy for potential customers to get in touch with you without taking up a lot of space on your flyer.
With a flyer for a sale or promotion, make sure you get the audience's attention as effectively as possible. Make the deal you're offering bold and to the point. "20% Off Everything" is an eye-catching headline that will draw readers in to find out more. From there, use clear, direct language to tell people more, including start and end dates, any limitations and, of course, information about where they can find your business.
Flyers created for general awareness can follow similar guidelines by being as direct as possible and offering prominently displayed contact information. If you're hiring employees for your small business, you might use a headline that talks about your amazing employee discount or benefits package.
Educational and informational flyers require much more finesse, as you need to get your readers' attention and then help them quickly digest your copy. To do that, clarity and brevity are your best friends. So, before you start to think about your product sheet's layout, you'll want to optimise the copy for maximum impact. It can be tempting to start with a snazzy design and then force your text to fit it, but that's putting the cart before the horse. Instead, draft a document that covers everything you want to say – then simplify it as much as possible.
Whatever the intended purpose of your flyer, bear in mind that you need to engage your readers. What are the benefits of using your product? Why should someone follow the advice you've given them in your flyer? Why should they join your organisation? Make it interesting!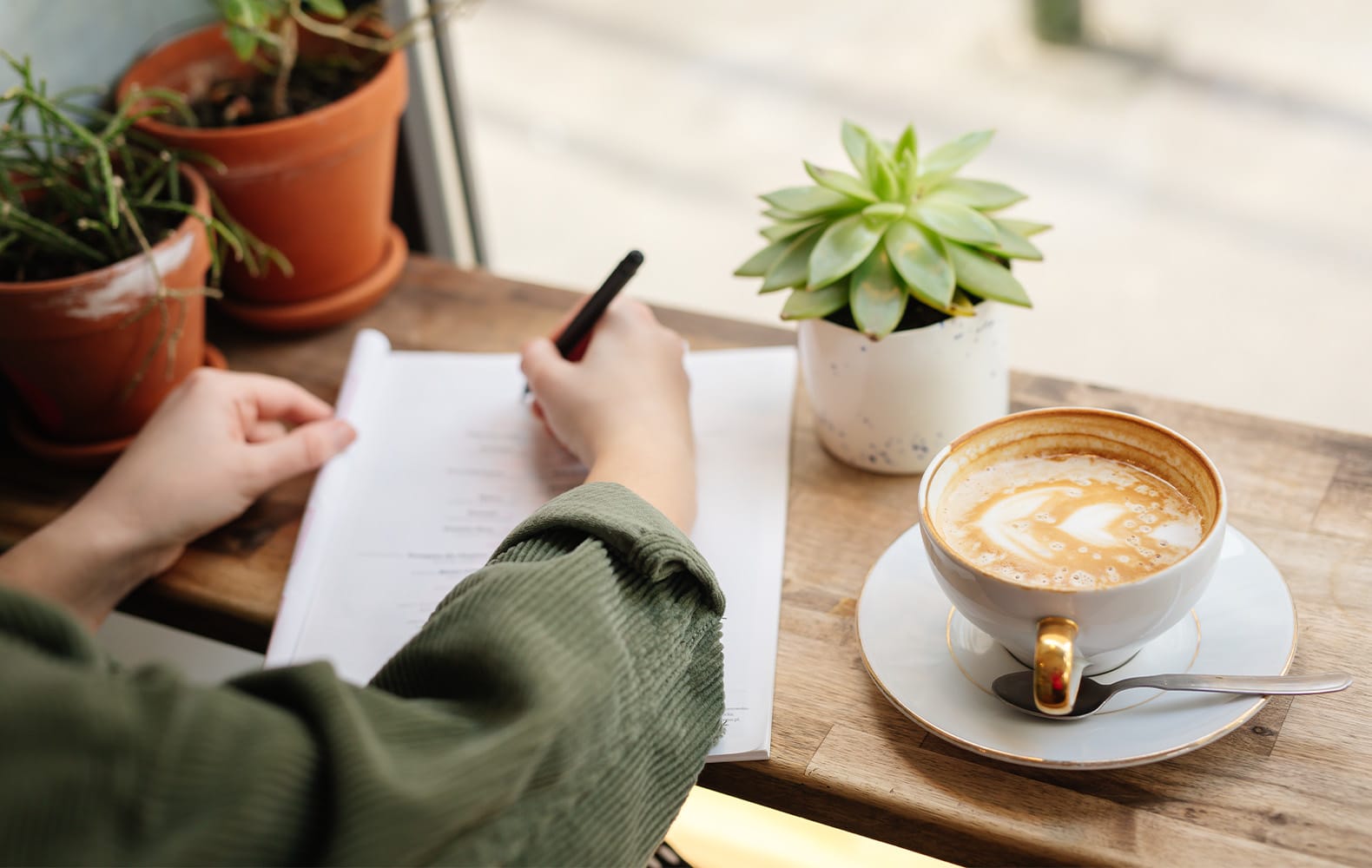 More flyer-writing tips
Here are some more things to keep in mind when you start writing.
Set out your information well. Subheads, bullet lists and informational graphics help readers find and read what's most important to them.
Include a clear call to action (CTA). Is there a next step your audience should take? Make sure that your call to action is as prominent as possible and that your flyer's copy directs people to it.
Use customer testimonials to earn readers' trust. Take the time to ask your most satisfied customers for a few words about your business.
Keep your audience in mind. A medical office would want to omit complex jargon in a patient handout, while an automotive parts companies may want to speak in the technical language that mechanics use.
Make sure you're easy to find. Don't forget to include contact information, whether it's through your website, phone number, social media profiles or physical address.
Business flyer design tips
The copy is just the beginning. You'll also want to make sure that your flyer has an eye-catching design that draws attention. Here are some creative ways to make sure your flyer stands out.
Use colour to your advantage. Embracing bold colour choices and contrasts helps your flyer attract attention, even from a distance.
Consider two-sided printing. If you have more copy than you can comfortably fit on one side of a flyer, two-sided printing lets you get more from a single sheet of paper. This is especially useful for product sheets and informational flyers.
Keep it simple. It can be tempting to overcomplicate your design. Use the same principles behind good flyer copy to guide your visual choices – blank space can be your friend.
Go bold with your headline. Your headline should be loud and clear. Set your headline in a typeface that's different from the copy on your flyer to immediately create an eye-catching focal point.
When it comes to font, size matters. Make sure that you don't go below 10 points for body copy – you want everyone to be able to read what you have to say.
Ensure any photos are high resolution. We recommend a minimum of 300 DPI (dots per inch) on every image printed, meaning that a background photograph on a 210 x 297 mm flyer would need to be 2550 x 3300 pixels, or around 8.4 megapixels.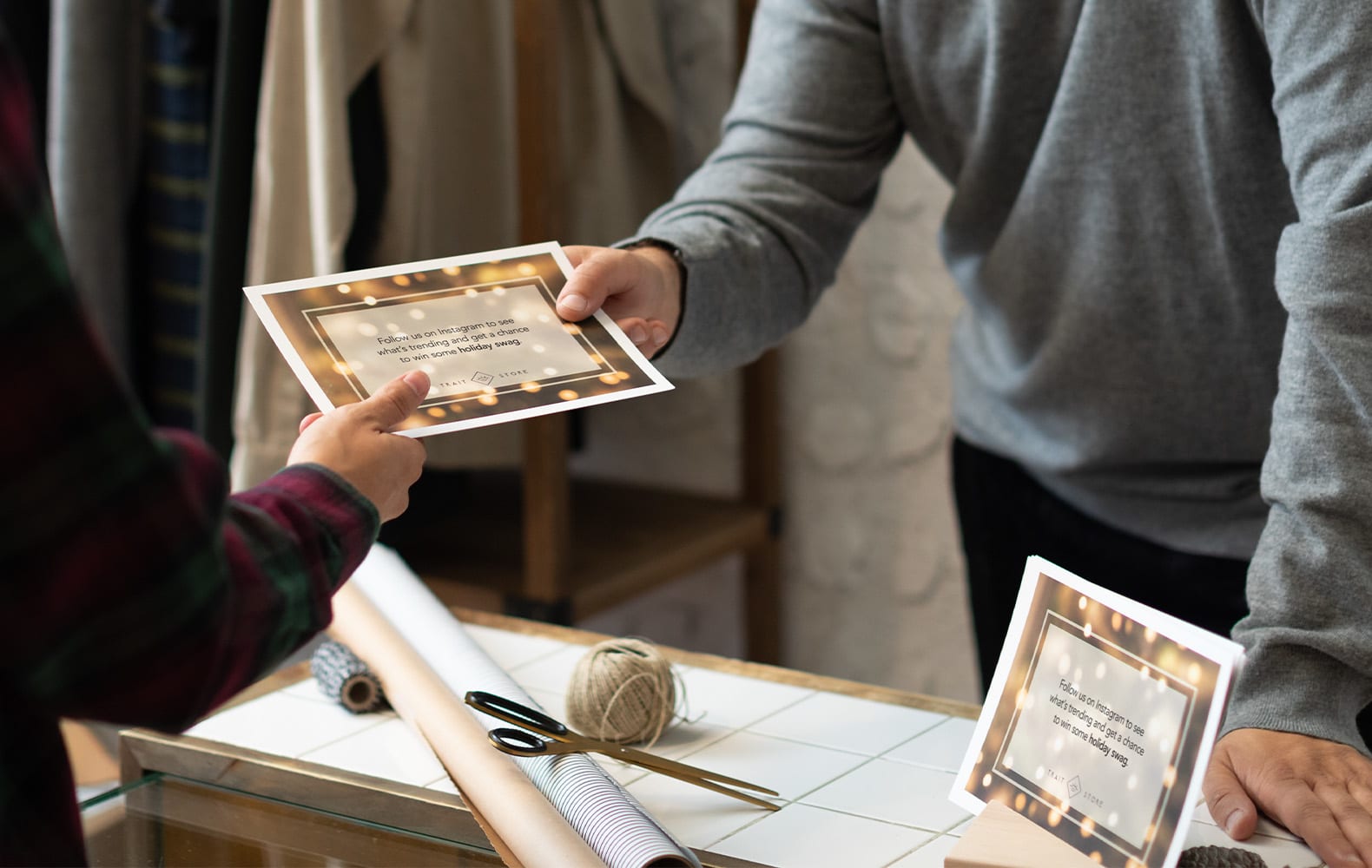 Flyer distribution techniques
Once you've got your flyers printed, it's time to get them out to your audience. Informational flyers and product sheets are usually handed directly to the people with whom you've already engaged, whether in your office or at a trade show. If you're promoting an event or want to advertise your business in general, you're going to have to think about broader distribution options.
The easiest way to get the word out is to place your flyers where your audience goes. This is the option with the least amount of work because you simply need to ask someone if it's okay if you use a little space on their bulletin board or in their window. Waiting rooms and other local businesses are also great places to display your flyers – just stack them in a holder to keep the flyers upright and add a touch of professionalism.
If you're displaying flyers at another business, make sure it's the right fit for your target audience. Advertising your new day spa? It's probably a better move to post a flyer at a nearby hair salon instead of at the local DIY shop
Street promotion costs more money, but it can get more flyers in front of more people… very quickly. Asking people to look at a piece of paper isn't enough – instead, work with your staff on an engaging opening line to attract customer attention. You may also want to look into door-to-door options i.e. dropping off flyers directly at the customer's home or business. This can be a very effective distribution channel for service businesses like landscapers, exterminators and home repair, because you're reaching the potential audience right where they can be helped.
Another option for distributing flyers is inserting them into a publication. Consider this if you work with a specific industry that has its own publications, or if your area has a local newspaper or magazine. Include a voucher or promo code for an added incentive!
The world is loaded with distractions, and you've only got a second or two to catch your customer's eye. By taking the time to craft good flyer copy and an attractive design, you'll ensure your business makes a great first impression.