Estimated reading time: 5 minutes
There's nothing quite like giving someone a memorable way to remember you and your business. That's why choosing a unique business card design idea can help you make lasting memories with customers.
And before you say, 'it's just a business card', know that these pocket-sized marketing tools have come a long way in recent years. With fun shapes, tangible textures and modern technologies, business cards offer more ways than ever to spark conversations and keep you connected with those who matter most to your small business.
Use these unique business card ideas to get your creative gears turning.
1. Go high-tech with NFC business cards.
Connect your digital and real-world presences with a near-field communication (NFC) business card. With NFC technology, you can tap and share your contact information the same way you'd tap your bank card to pay at the checkout. But how?
NFC cards look like traditional business cards but are plastic and have an embedded NFC chip. When someone scans your card with their smart device, they're taken to a custom landing page for your business. And what customers see is entirely up to you. Choose from functions like tap to call, a product video, your contact information, a page on your website and more.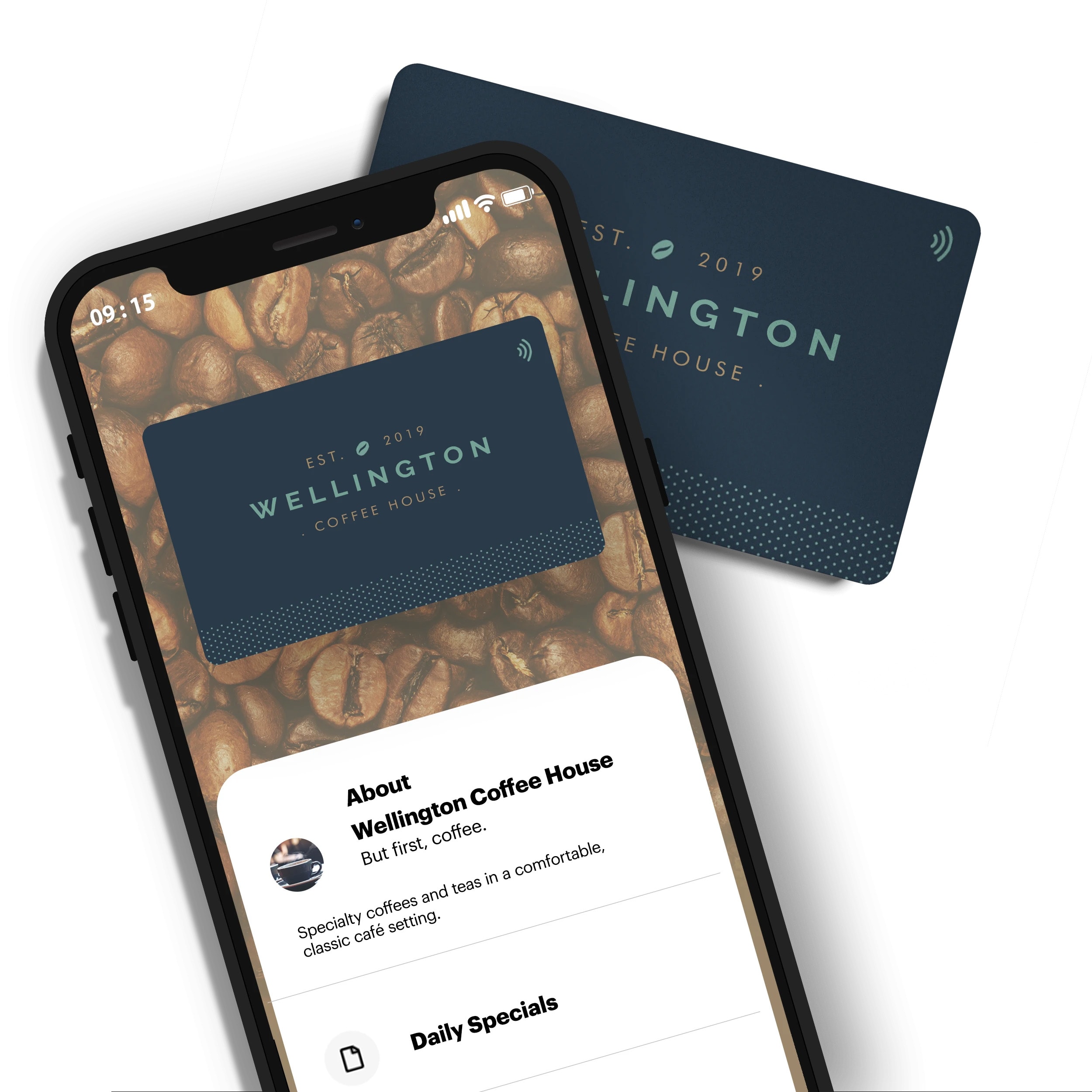 These digital cards differ from traditional business cards in that you'll generally not pass them out for customers to keep. Instead, you can purchase one or a small quantity and have customers scan the card, save the information and then take the card back. NFC cards are also typically printed on sturdier, more durable substrates like plastic, metal or bamboo — making them both more of a premium option but also more expensive than a classic card or QR code card.

2. Stand out with square business cards.
When you stack rectangular business cards neatly on your desk, they all look the same. A square business card, however, stands out in any stack.
This unconventional but eye-catching shape is instantly noticeable in stacks of post-event swag. When customers and clients unpack after large-scale events like conferences, trade shows, local food fests and farmers' markets, your square card refuses to get lost in the pile.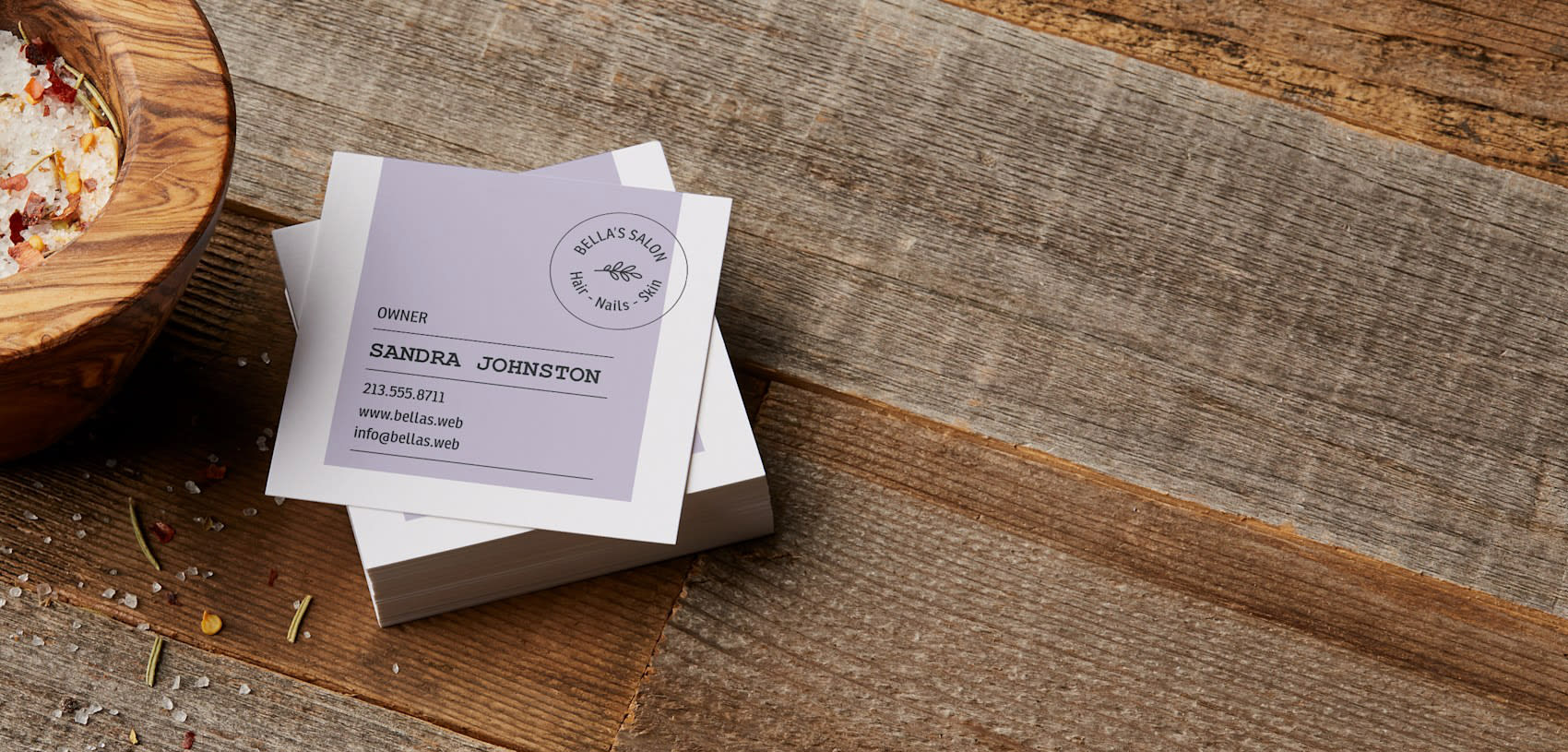 3. Make a statement with more sustainable business cards.
Whether you recycle, upcycle or simply want to make the world a better place, more sustainable business cards definitely make a statement.
Made from more sustainable materials like hemp, bamboo and more, these cards can help align your business mission with a climate-friendly message. This business card design idea can also help you stay true to your brand — for example, if your brand mission is eco-friendly skin care, it makes sense to use a business card made from more sustainable materials.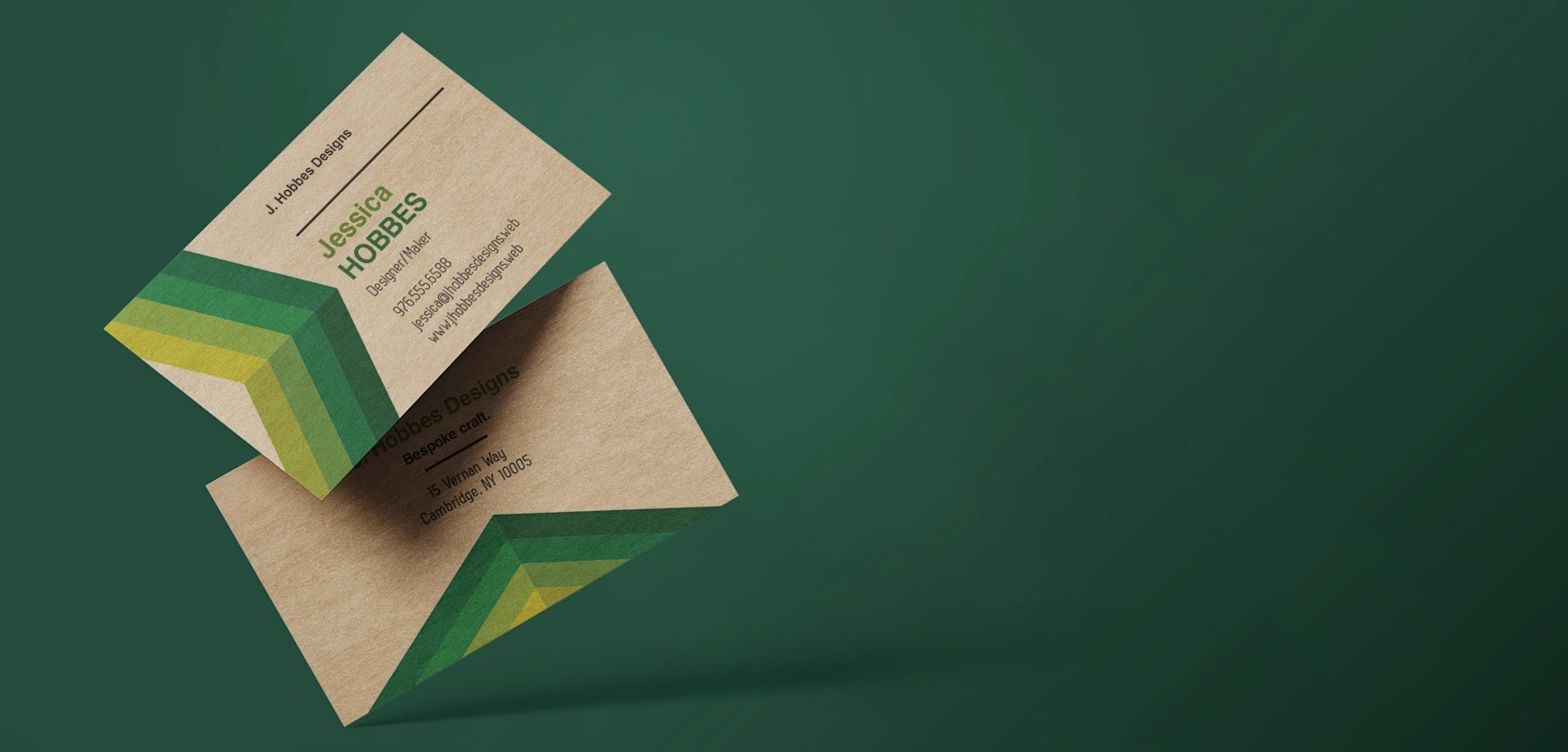 4. Combine your loyalty and business cards into one.
Since business cards have two sides, why not make one of them a gift that pays your customers back? Your business card can be dual purpose: business details on the front, loyalty card on the back.
As far as business card design ideas go, this is a must-consider for anyone who loves repeat business. Before long, your customers will link your business card with a brand that pays them back. And the best part? The minute your customers redeem your card, they'll get a new one. Talk about a renewable resource.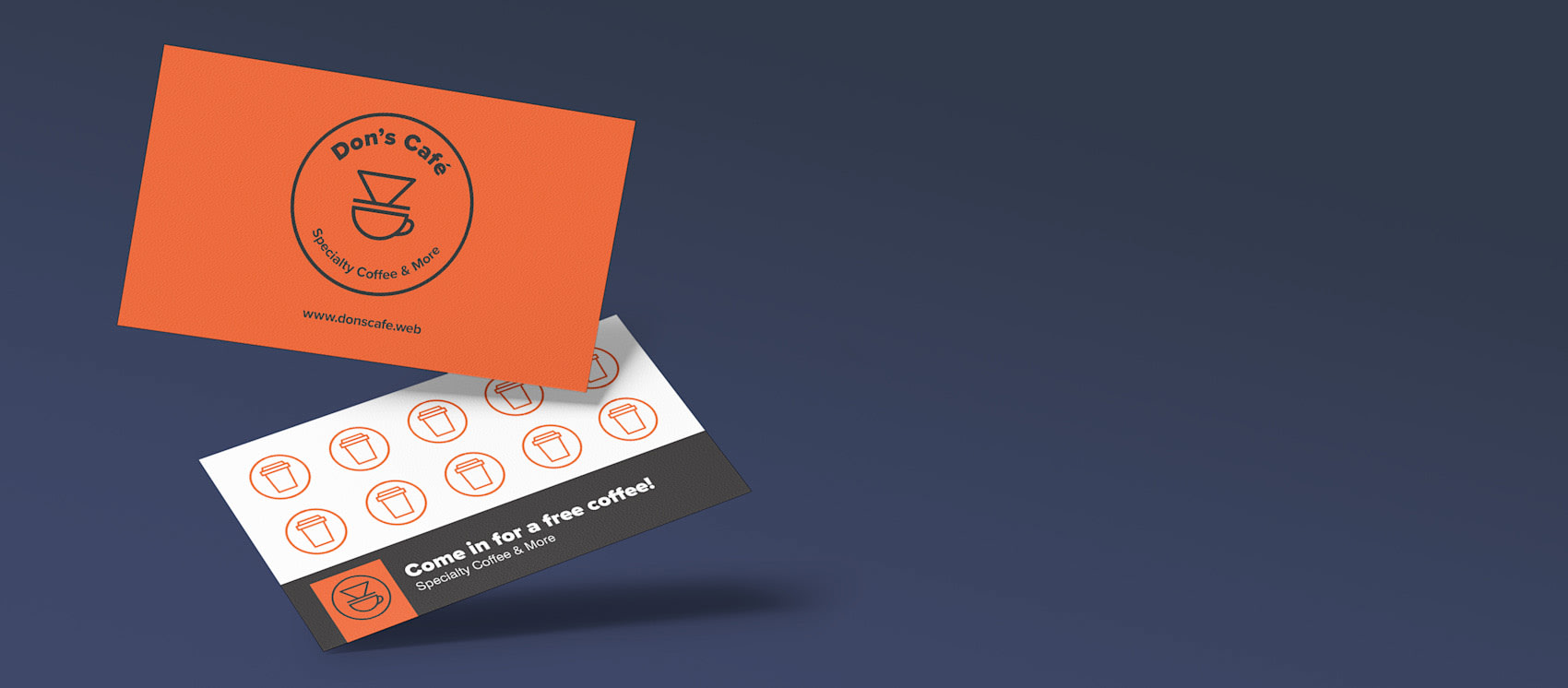 5. Connect with a QR code business card.
If you're looking for business card design inspiration that turns a hello into a long-term relationship, don't sleep on QR business cards.
When customers scan the QR code on your card, you're in control of where they go next. From product pages to an online portfolio and every website in between, these tech-savvy cards can deliver revenue and stronger relationships.
Compared to NFC cards, QR code business cards have a more traditional use. Business owners generally use them as a marketing or networking tool and will purchase them in larger quantities to pass out. And while they both have a digital component, QR code business cards are still printed on a paper substrate, making them the more cost-effective option. However, it's important to note that the information stored in the QR code is static, so if you want to change the link or landing page, you will need to create a new QR code.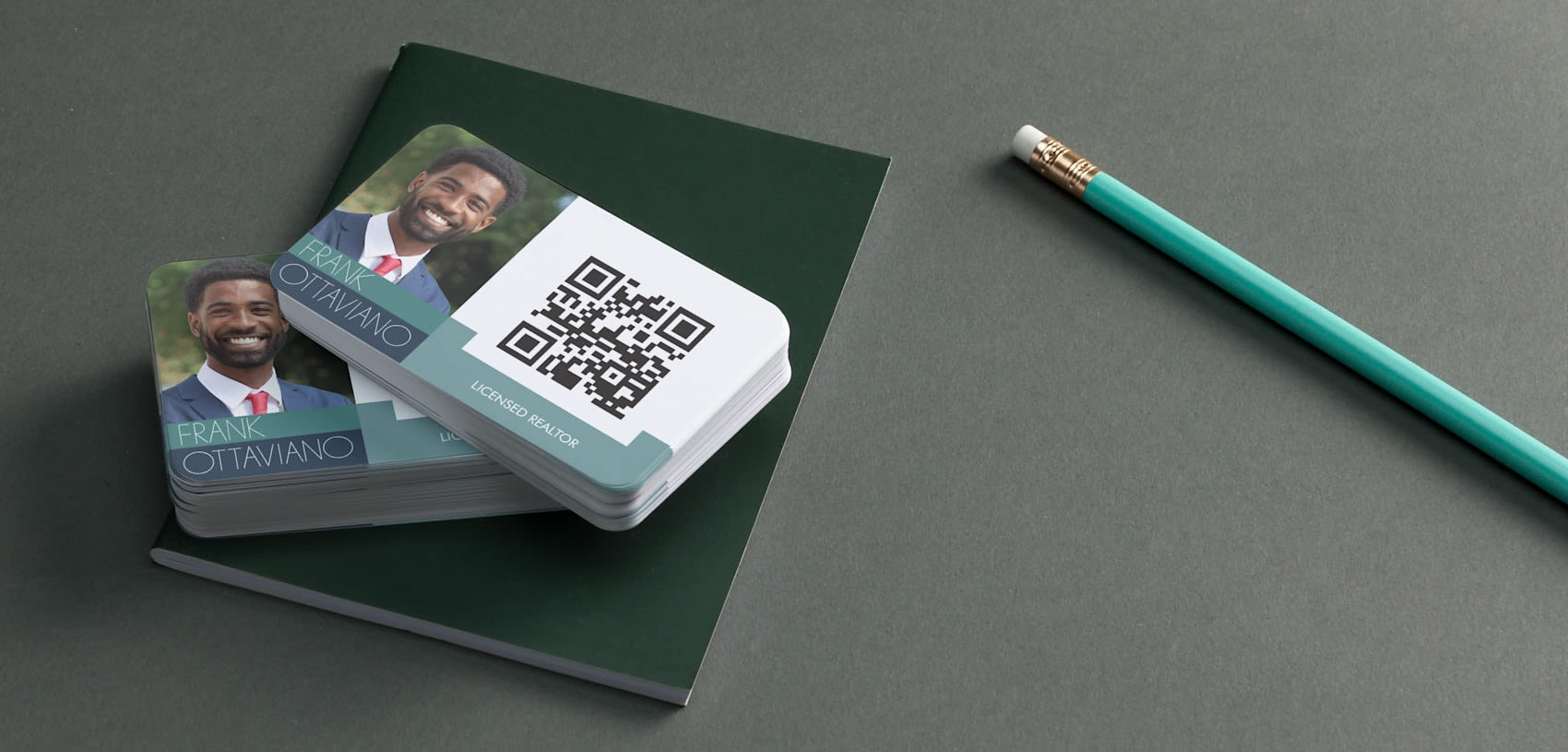 6. Delight with imagery-rich business cards.
If you're a visual brand — such as a photographer, makeup artist or crafter — you can put stunning imagery to work by creating a graphic-focused business card. Whether it's a company logo, custom painting or another knockout image, you can put it front and centre on your card.
Choose the font, paper colour and texture to best complement your imagery. Before you know it you'll be handing out a little bit of art every time someone asks for your card.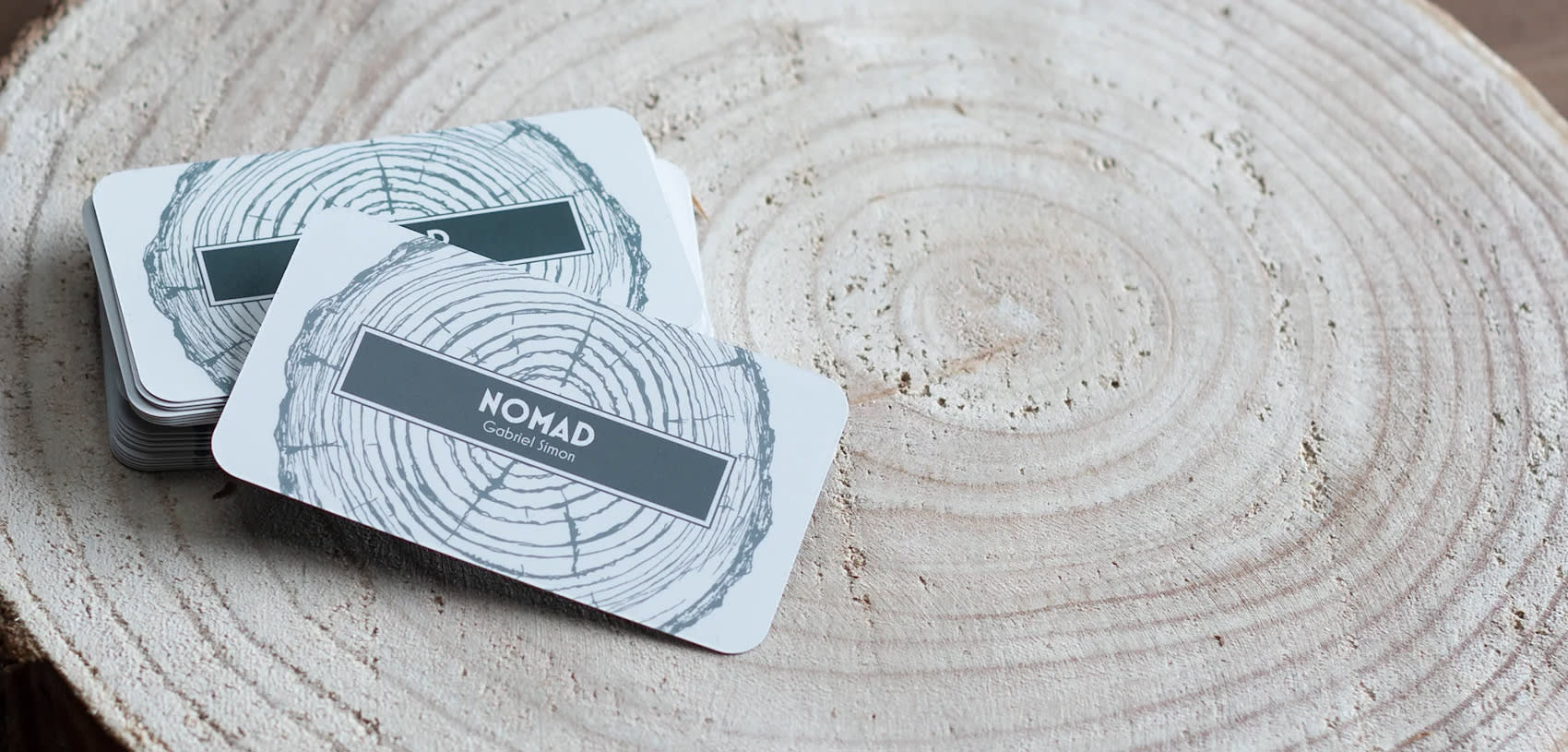 Want to make your brand graphics stand out even more? Help your imagery find its light with a shimmering pearl business card.
7. Raise the bar with embossed business cards.
Give customers and clients something to talk about with the unforgettable elegance of embossed business cards. An embossed texture is a way to make any element on your card pop — logos, text or graphics.
For an extra kick, try adding colour to embossed areas or a premium weight paper for a feel that says 'this card means business'.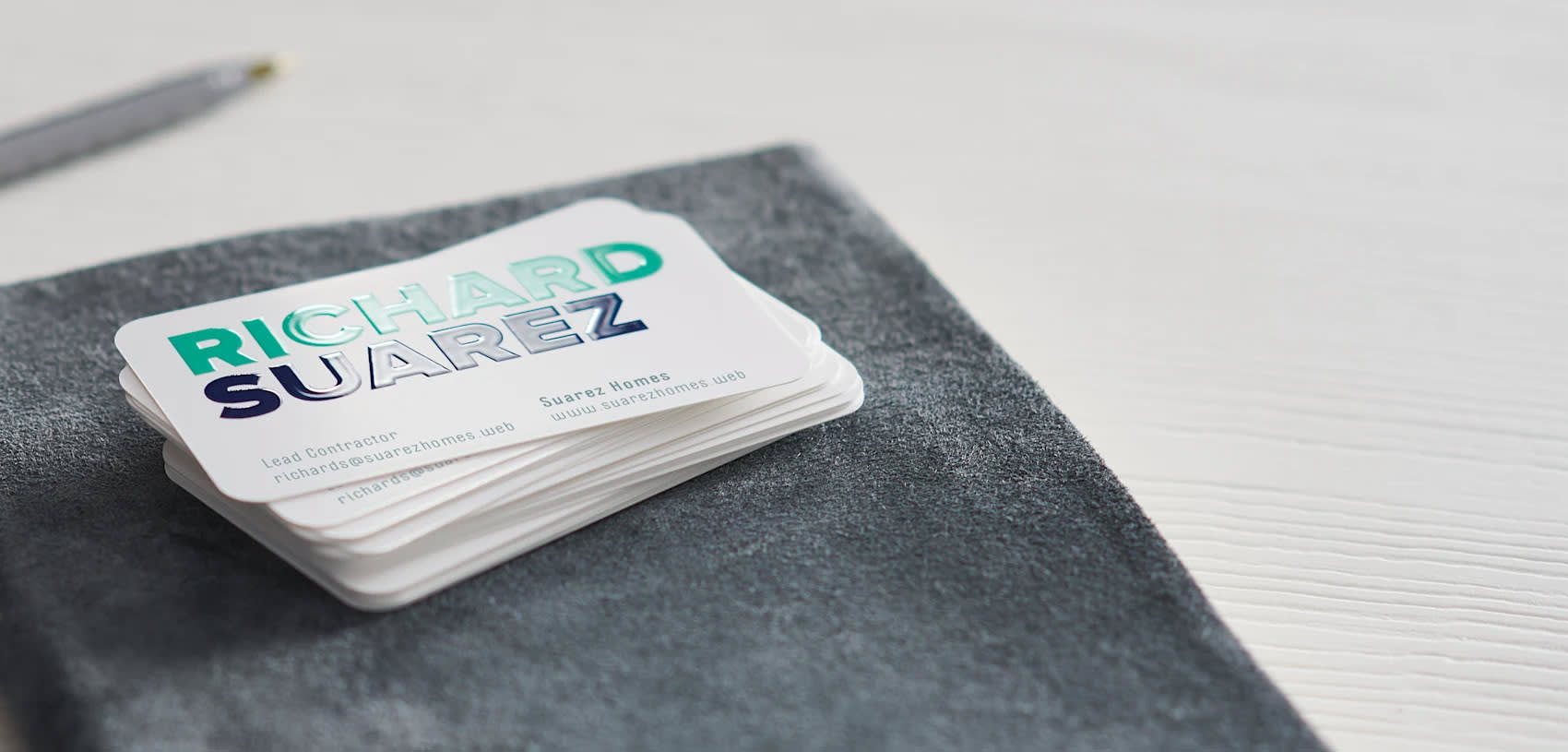 Make unique business card designs work for you
The creative business card ideas above are just the beginning. No matter what type of business you have, there's a card design out there that tells your brand story in a way that will make you — and those receiving your card — say 'wow'. From design elements like fonts and colours to features like texture, technology and more sustainable materials, a business card that's uniquely yours is waiting.