Estimated reading time: 7 minutes
In today's tech-charged world, where people carry so much information in their pockets, it's reasonable to question the value of the traditional business card.
But business cards are still a key marketing tool for new entrepreneurs, even in 2023. A thoughtfully designed card can do a lot to propel your business forward. Modern business cards, both the traditional paper variety as well as digital ones, can expand your name in the marketplace, strengthen your distinct brand, build connections and legitimacy and, ultimately, drive sales.
The importance of business cards in today's world
Business cards remain unquestionably valuable even as technology swirls around us. They represent another outward extension of your brand, a powerful device to connect with customers and a handy tool to legitimise your business.
Whether you are running a new or established operation, business cards are a savvy, cost-effective and relevant marketing tool offering a range of business-boosting benefits. From easily sharing contact information to shaping potential customers' opinions about your venture, here are nine reasons the modern business card remains relevant.
1. Share information in the simplest way.
For all the promises and speed of the digital age, business cards are the most straightforward way to share key information about your business. You never know when you'll meet a potential customer or partner, so it's smart to always have some business cards on hand. When you share your business card, you're handing the recipient a tidy overview of who you are and what it is you do.
2. Make a positive first impression.
Having a high-quality, well-designed business card at the ready signals professionalism and preparedness. It legitimises your business and, particularly for new ventures, delivers a shot of credibility.
If you went to a fancy restaurant and received an error-laden menu on plain copy paper, wouldn't it inevitably lead you to question the establishment's quality? Odds are it would. The look and feel of a business card can inspire confidence, elevate your brand and distinguish you from competitors in a similar way. With premium paper stock and features like spot UV, you can show you are an invested professional who's focused on the details.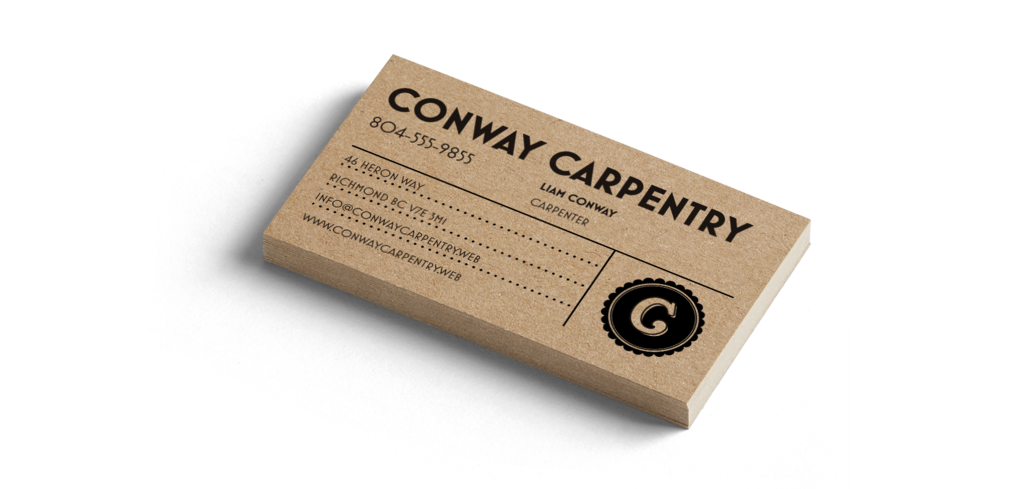 3. Encourage further engagement.
Hosting key business information, such as your website, email address and phone number, a business card encourages people to contact you, visit your business (online or in real life) and learn more about you. Another way to encourage customers to engage – and hold on to your business card – is by adding an incentive. Maybe it's a free consultation, or a 10% off voucher when they make their first online order. Handing someone a business card can be the first step in forging a relationship… and strong relationships are critical to a business's success.
4. Provide a tangible reminder.
Remembering names after a first introduction isn't a skill that comes naturally to most people. Offering a business card relieves that pressure and increases the likelihood that the person you just met will put a name to your face and ultimately contact you again. Business cards can also prompt people to schedule an appointment, swing by your shop or peruse your products and services online.
5. Let people spread the word about your business.
Personal referrals and word-of-mouth advertising drive business results. Cards are frequently passed along from person to person, or you may arrange with colleagues or other businesses to distribute each others' information. An artist, for instance, could display their business cards alongside their pieces for interested aficionados to collect and share, or a bridal boutique might gather up the cards of local tailors, florists, photographers and caterers to recommend them to their customers.
6. Spark conversation.
When you tell someone you own a restaurant or fitness studio or another niche business, they'll probably want to know more. Handing them a business card pushes that conversation forward. And if your business card features a unique design or dynamic feature, you'll have even more to talk about.
7. Direct people to your digital experience.
When a business card displays your website or social media handles – or features a QR code that will instantly open your site on a smartphone – you increase the likelihood that people will enter your digital orbit. Once there, they can explore your products or services, connect with you on social media, book an appointment with you online and more. Business cards open the sales funnel and increase the probability of a conversion, which is the ultimate goal of any marketing endeavour.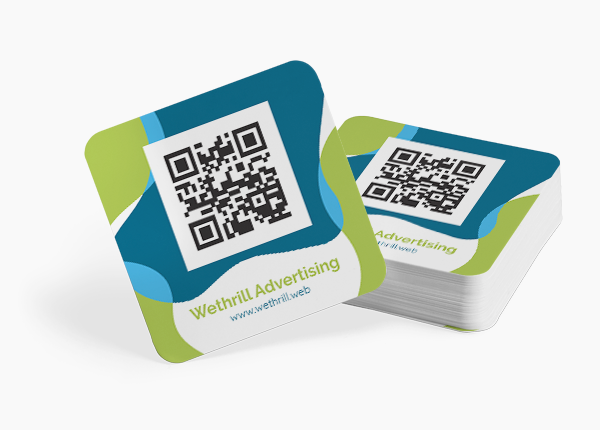 With URL and QR code information, modern business cards are like a ticket that leads people back to you. Anyone who receives your card has a tangible reminder of your interaction and won't have to do any legwork to track you down. Even if a person tosses your business card away after they connect with you on social media, the card did its job in securing a valuable digital follow-up.
8. Create brand consistency.
Much like a sponsorship banner at an event, business cards offer a branding opportunity. Putting your logo on the card creates a consistent brand experience that becomes recognisable and easy to remember. Take your brand consistency up a notch by using the same colour palette and fonts across all of your marketing materials… including your business cards.
9. Give insight into your business.
Business cards say something about your business's vibe. If you run a fine-dining restaurant, then a premium paper card featuring a metallic finish can enhance your establishment's high-end feel. Whereas a wedding photographer specialising in a photojournalistic style might feature their best spontaneous image on the back of their card to demonstrate their skill at capturing unscripted moments. Your font choice can also reflect your business's style – are you whimsical or scholarly? Feminine or masculine? Minimalist or maximalist? That fine-dining restaurant might opt for a sleek sans-serif font, while the photographer might choose typography that feels more free-spirited.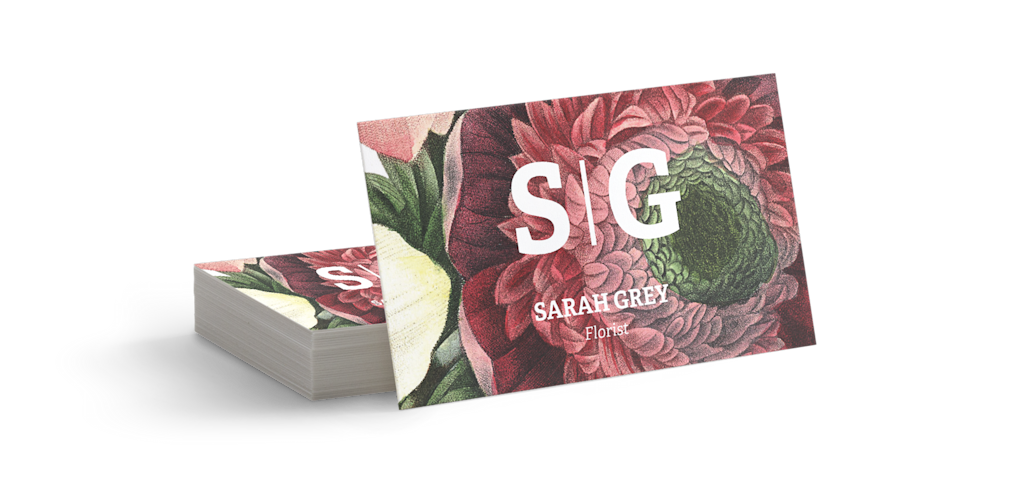 Modern business cards that can really work for you
Your business is one of a kind, and your business cards should reflect that. Fortunately, a diverse array of business cards are available to fit your vision, objectives and budget. Standard business cards usually come in glossy, matte and uncoated stock and there are many ways to enhance them. You can also explore premium options, including unusual shapes and textures, such as rounded corner cards and eco-friendly paper stocks. Specialty options like waterproof plastic cards or painted edges can further differentiate your business from the competition.
To create an especially distinctive, individualised look, commission VistaPrint's design services and collaborate with a professional designer.
For small business owners who are looking to bridge the real and virtual worlds, and stay ahead of the tech curve, consider digital cards. Business cards with QR codes can instantly direct smartphone and computer users to your web shop, help them to make online appointments, prompt them to join a loyalty programme and much more. You can even take it to the next level with near-field communication (NFC) business cards. With this tech, potential customers and partners can use their smartphones to scan a chip embedded in your card and transfer your information directly to their devices.
It's worth noting that digital business cards are growing in popularity given their customisation potential as well as their straightforward and contactless nature. In fact, the market size of digital business cards is expected to top $242 million (£198 million) by 2027, according to Market Research Future. The timeless benefits of traditional business cards coupled with the common usage of smartphones enhance the appeal of modern business cards and present new opportunities for engaging with customers and partners.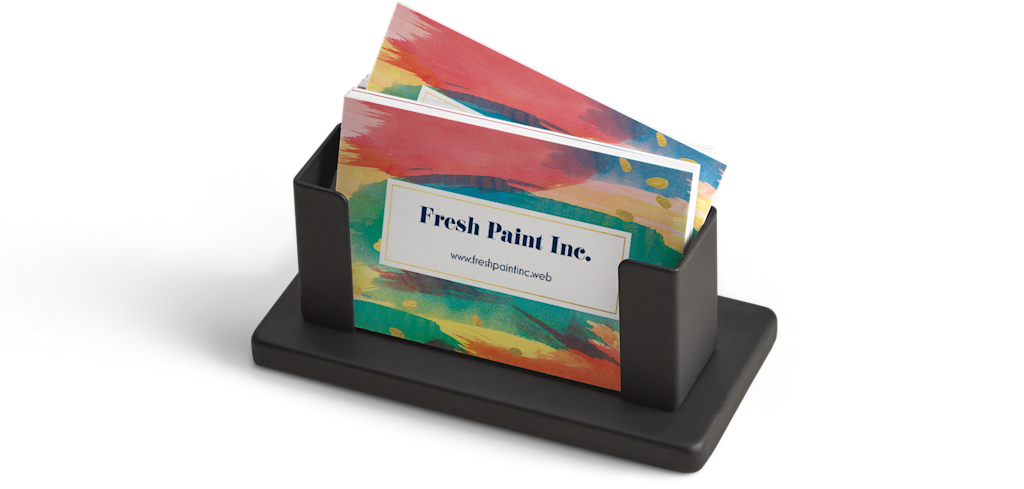 The evolution of the dependable business card
Whatever your industry, the age of your business and the services or products you offer, the tried-and-true business card remains an essential marketing tool.
Business cards empower a more personal introduction to a prospective customer, deliver a tangible invitation to further engagement and give your business credibility and polish. Moreover, business cards present an opportunity to bring new customers into your world, spur ongoing relationships and ignite deeper interest in your business. And when combined with modern, tech-fuelled features like QR codes and NFC chips, business cards construct a valuable bridge to the digital world.