Estimated reading time: 5 minutes
These days, digital connections offer lots of value to brands — but there's just something special about engaging with people face to face. One key opportunity to boost brand recognition in an authentic, real-world way is through promotional merch. These giveaway items, often called 'swag', can help your brand break into new markets while also giving loyal customers everyday items that act as walking billboards for your business.
Whether you regularly give out company-branded merchandise to your customers or save it for special events, this category of marketing has a lot to offer both new and established small businesses. Let's learn more about how company promotional merchandise can boost brand awareness and provide customers with useful items they'll love.
What is promotional merch, and why does it work?
From those printed pens you find at hotels, to that brewery logo T-shirt your brother always wears, to that colourful tote bag that caught your eye at the market — custom branded merchandise comes in so many shapes, sizes and uses. That's really good news, too, because no matter how your brand might be best translated to merch or how you choose to use it, there's an easily customisable option out there for you.
"I'll be popping some little goodies into random purchases during my in-person markets coming up", says Olivia Brydon of Creatiive Natiive. "A little thank you to pass along and to share my love of office supplies."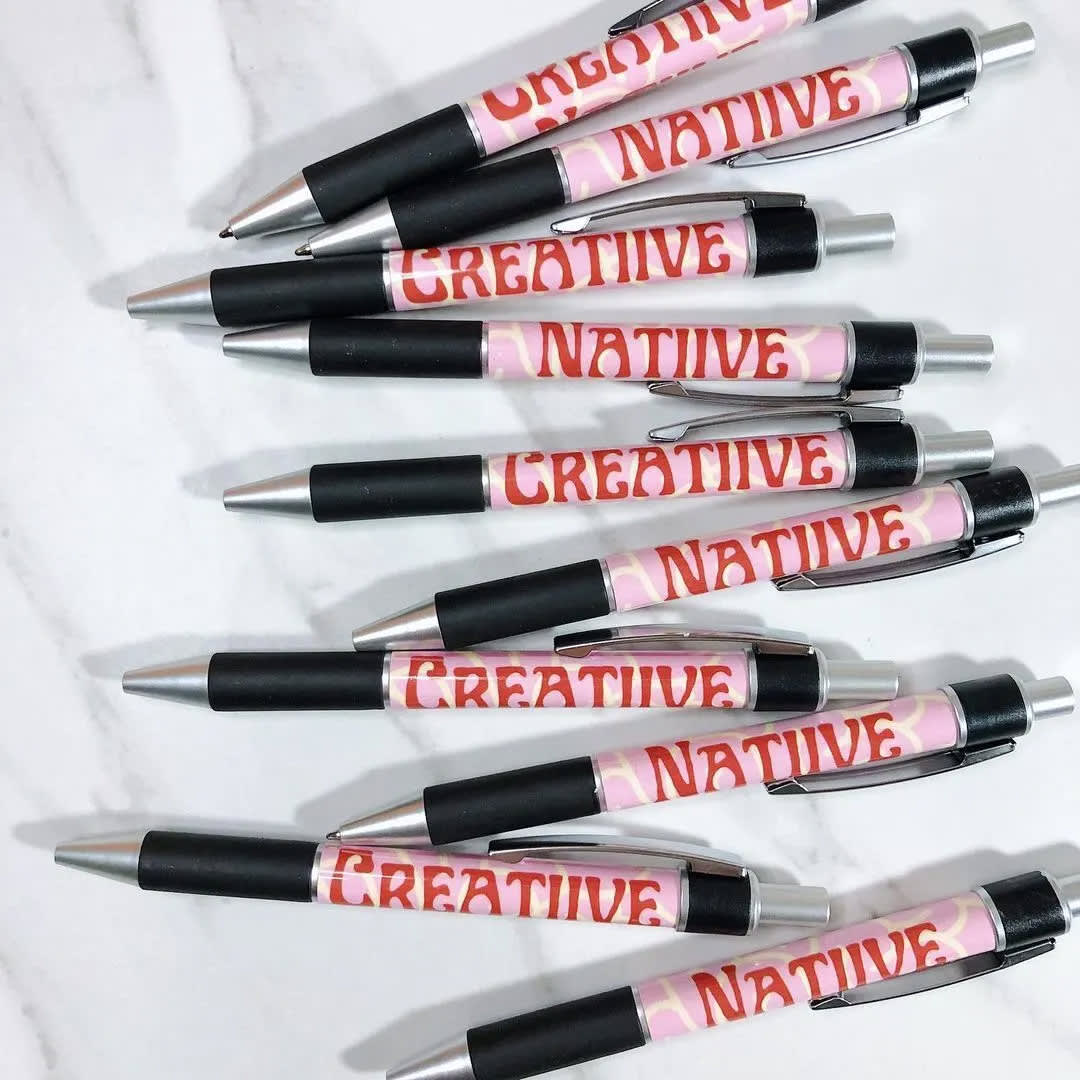 Source: @creatiivenatiive on Instagram
Custom merchandise for business has expanded to include all kinds of novel and useful products, including:
Office supplies, such as pens, pencils, organisational tools and notebooks.
Technology accessories, such as power cords, personalised mouse mats, USB storage, charging stations and earbuds.
Clothing, such as T-shirts, sweatshirts and hats.
Drinkware, such as tumblers, photo can coolers, water bottles and mugs.
Household items, such as magnets, torches, tools and safety kits.
Food items, such as sweets, snacks and chewing gum.
But what's the difference between corporate-branded merchandise and some other marketing tool, like a brochure or business card? For one, people should find merch valuable on its own, even without your branding. It should mean something to them, and they should be more likely to keep and use it over time compared to, say, a promotional postcard about an upcoming event.
The best branding merchandise products are items people use every day. Every time they use your gift, they will be reminded that you exist. And people around them will see it too (more on that in a bit). That's a big win for a growing small business, because brand recognition is the ultimate way to stand out in a crowded market.
How branded merch spreads the word — online and offline
Humans are social beings. We share everything we do (well, most of it) with our friends, family and online communities. So branded merch has the added benefit of being visible as we live out our lives. When hiking with friends, they'll see that branded water bottle. When posting photos on Instagram, they'll see that sweatshirt with a cool logo on the front. Visiting a local market or strolling around town? Passers-by are sure to notice that handy tote bag.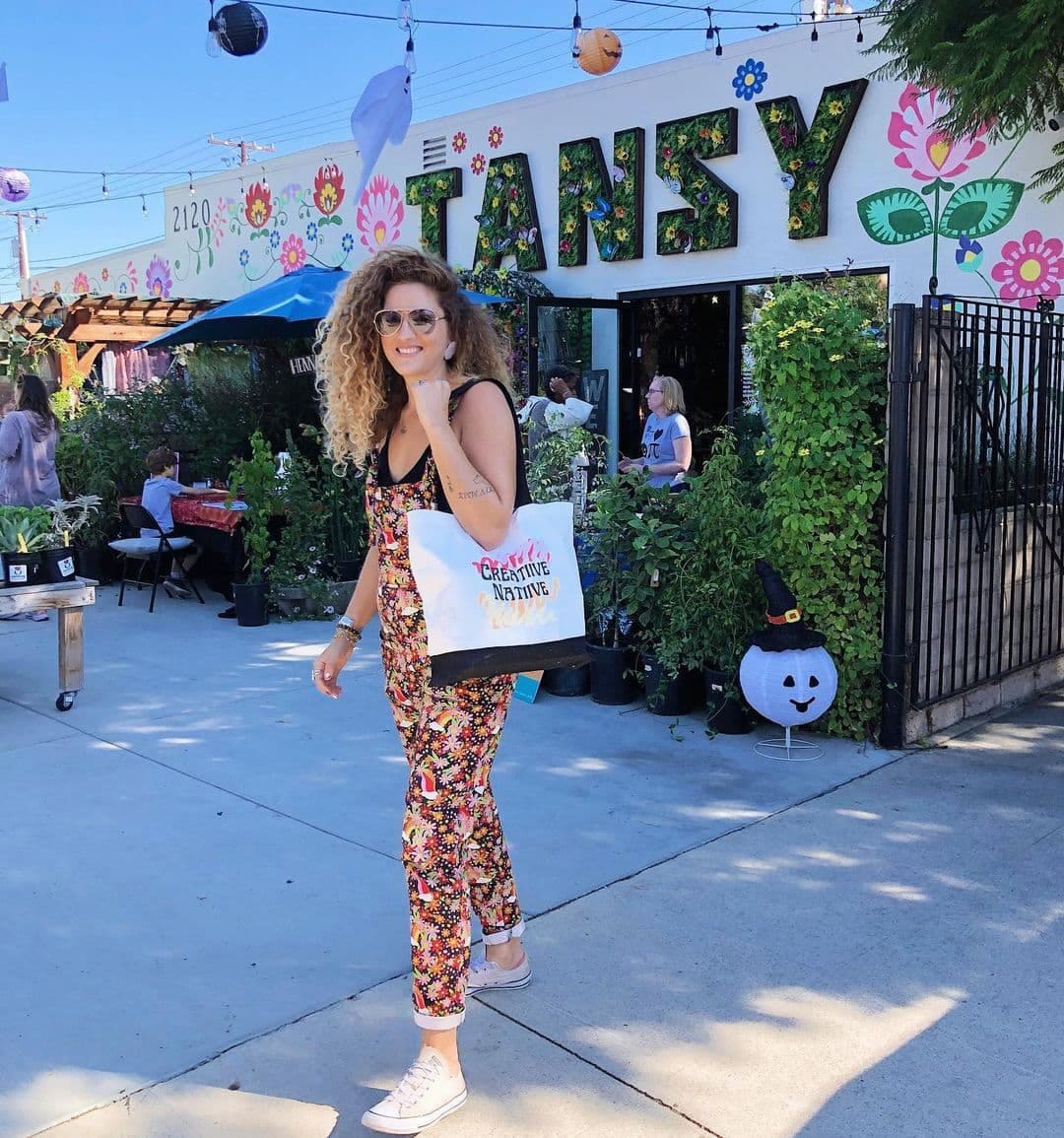 Source: @creatiivenatiive on Instagram
What's more, in this day and age of brand ambassadors, it's much easier for an online influencer to share news about your business if they have something useful at their disposal. You also have a better chance of seeing your brand 'out in the wild' or spotting it in an organic social media post. This may be far more effective than any paid placement and a true testament to the quality of your merch.
Seeing merch perks curiosity and begs the question, 'Where did you get that?' It's also fun to watch online personalities unbox swag bags and boxes or share the merchandise they've received from brands. If you're doing any kind of influencer outreach, adding some company-branded merchandise to your package is a must.
Merch can be displayed for purchase in brick-and-mortar locations or included as freebies with e-commerce orders. You can sell and give items away at a trade show stand or local farmers' market. It also makes great prizes for redeeming loyalty points. Get creative with how you use swag and merch to show your appreciation to existing customers, as well as potential new ones. And check out the competition, so you can differentiate your merch and avoid giving away the same thing everyone else is.
For in-person and online retail purchases, throw in a custom die-cut sticker to add a splash of your brand personality that customers can put on their favourite gear.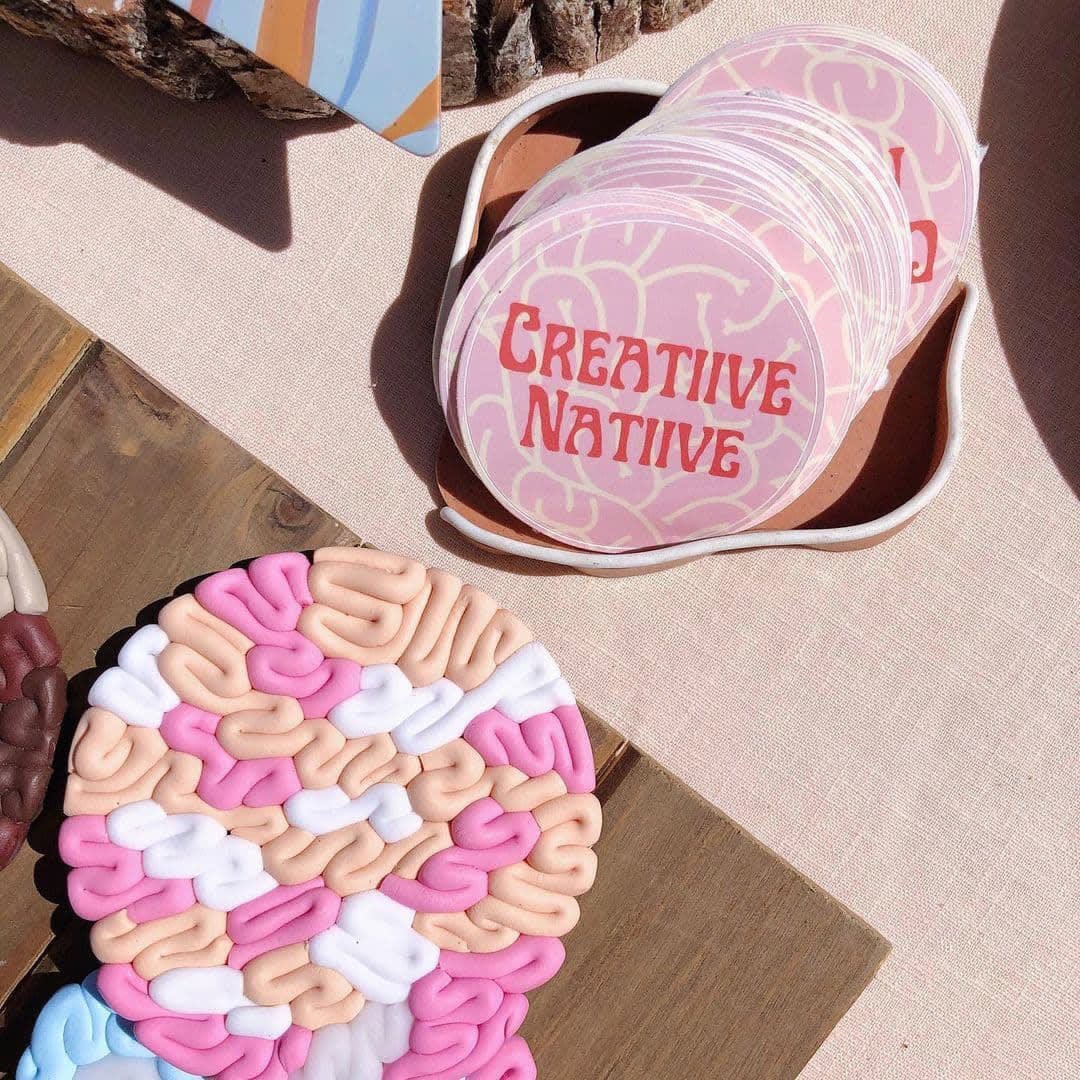 Source: @creatiivenatiive on Instagram
Tips to get started on your merch journey
So, merch works hard for your brand, and there are plenty of spaces where you can display it for sale or give it away as freebies. But how do you get started? Thankfully, it's easier than ever to find a product you like and get your brand name, logo and a QR code added.
When perusing your options, keep these three tips in mind:
Order early. Especially if you're preparing for an event, make sure to plan out your merch with plenty of time to spare. If you're planning a larger order or trying out a new type of exclusive merch for your VIP customers, you may also want to order some test products so you know they will work as intended before placing the full order.
Consider the season. Look for items that can be used all year round, such as pens or baseball caps, or opt for season-specific items that fit a particular theme, such as water bottles for a summer outdoor event or cosy hats during the colder months.
Show brand consistency. Does all your swag tell a story about you? While you can certainly mix up your merch with various pieces, sometimes consistency can be good. A brand that always brings the best T-shirts to the annual community event will stick out among the competition.
Keep your customers engaged over time by regularly adding new merch products and designs to your inventory.
It's tempting to buy all sorts of different options right away, but a steady approach will help you track what's working so you can easily reorder the merch that stands out. With some creativity and an eye on your long-term business objectives, promotional merch can delight your customers and take your marketing efforts to the next level.