Estimated reading time: 13 minutes
Hiring your first employee is a major step for a small business owner. When you decided to start your business, you likely took on a lot of jobs — handling social media, figuring out your budget, labelling inventory, handling customer complaints…you get the idea. And now, if you're thinking about bringing in someone to help, that's a great sign. It means you're busy, your business is growing and you're ready to take things to the next level.
We talked to three independent coffee shop owners to learn about their experiences hiring employees and managing a team. Whether you're opening a second location or need some part-time help, read on for their answers and advice.
Meet the owners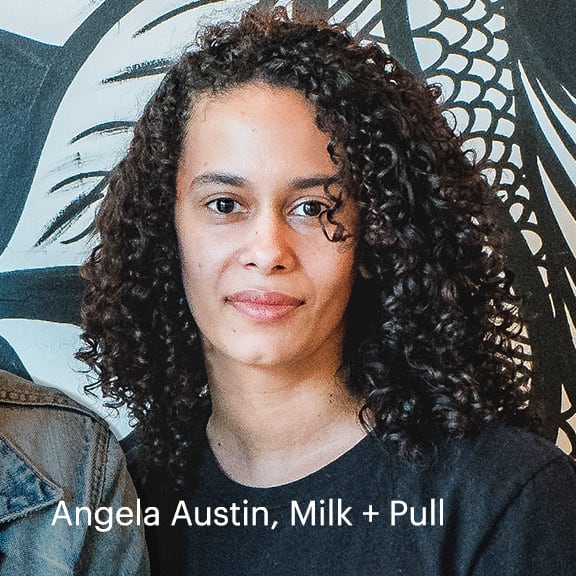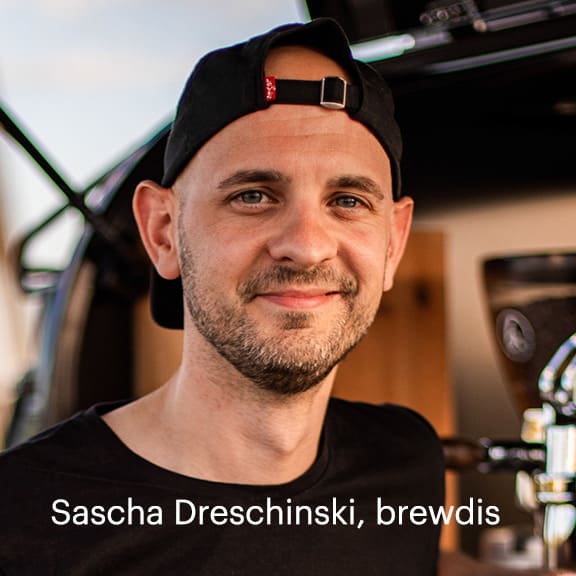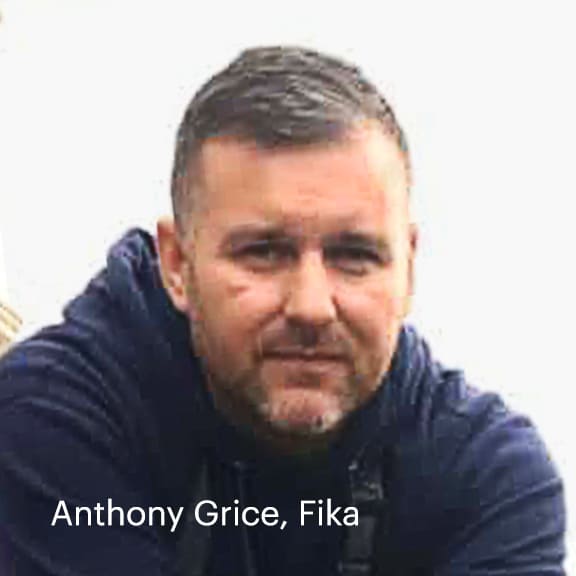 Angela Austin, Milk + Pull
Angela and her husband Joe have three Milk + Pull locations across Brooklyn and Queens in New York City, with the first opening in 2013. This team of native New Yorkers strive to serve great coffee and fuel the community around them.
Sascha Dreschinski, brewdis
Sascha opened brewdis in 2019 with two co-founders. Today he runs the business alongside Lukas Schulze-Vorberg and Bianca Breining. They wanted to combine their love for coffee with a creative cafe offering, so they decided to open a mobile coffee bar, built from a Piaggio Ape (and nicknamed 'Betty'). You can find Betty, as well as their coffee bike (Bobby!) in Frankfurt, Germany
Anthony Grice, Fika
After a decades-long career in the hospitality industry, Anthony opened Fika's first location in 2018 and just recently set up shop at a second location. He wanted to bring a Swedish-inspired coffee shop to his home city of Liverpool that had a welcoming environment and sparked conversation.
When is it time to start hiring?
Many business owners start their small business as a solo act, or maybe with one business partner or supporter, meaning that they wear many hats and try to do it all themselves. But if business is good and you want to grow your brand, it might be time to bring someone else on board.
Angela remembers telling her husband, "You shouldn't be doing it all, because if you're doing it all, then you're not working *on* the business. And if you're not working on the business, it's not going to grow. You need to free yourself up from day-to-day things in order to be able to work on the vision and really take it forward". Angela notes that when they did start hiring help, it freed them up to start roasting their own coffee and developing that side of the business. They now have a manager for each of Milk + Pull's three locations.
Angela also notes that hiring someone at a manager level was a major decision. "It was always something we knew we needed in the long run. But knowing that we needed someone that was going to lead operations…oh, that's going to be really expensive. Are we going to be able to pull someone in?" She cites the pandemic as an opportunity to snag someone. "It was a bit of a benefit of the pandemic that people started re-shifting their priorities. It was an opportunity like that that meant we were able to hire her, because she came from a well-known brand doing education in coffee."
When Anthony opened Fika's first location, he had two staff members in addition to himself. "They were both employed part-time, and we were open six days a week. So, we'd have someone doing three days, someone doing three days. I would do all six days. With having the two part-time employees, if one was off, you would have the other one to fall back onto."
And though this system worked well when Fika first opened, business picked up, and Anthony knew he needed to bring in more help. "We started having people come in mid-way through the day, so they'd come in from maybe 11am until 2pm. And they would be washing dishes, cleaning plates, because that would be one of our busiest periods of the day. The rest of the day we'd be doing all our nitty-gritty jobs, but when it was busy, we'd have someone come in to help run things during those busy times, which went well."
When he opened Fika's second location, he needed to bulk up staffing once again. He had staff members from his original location transition to the new location as they knew the drill — but then he needed to replace those employees at the first location. "There were a lot more shifts to cover. We didn't realise that there would be a hell of a lot of shifts to cover, because obviously we needed people who've been with us a long time to look after staff in the new venue, in the new place, and make sure it was to our standards."
Sascha Dreschinski, owner of brewdis, started without any employees — it was a fun side-hustle for him and his co-founders. "We would open whenever it suited us and we felt like it, quite irregularly in the beginning, and we had to get to know the vehicle ourselves and figure out how things worked. It was all quite sporadic until we had our first employee."
Once they had their processes and workflow in place, he felt ready to bring someone in and train them. "We had everything written down and could confidently leave the [shop] in someone's hands and let them work self-sufficiently. That was really important to us as we're not available all day due to our own jobs. We want to be sure they can get through the day without us."
They'd also received a permit allowing them to set up at their park location every day. "We wanted to make use of it and be there more often. The question then was, 'How do we do that?' And then the decision was made to hire more people."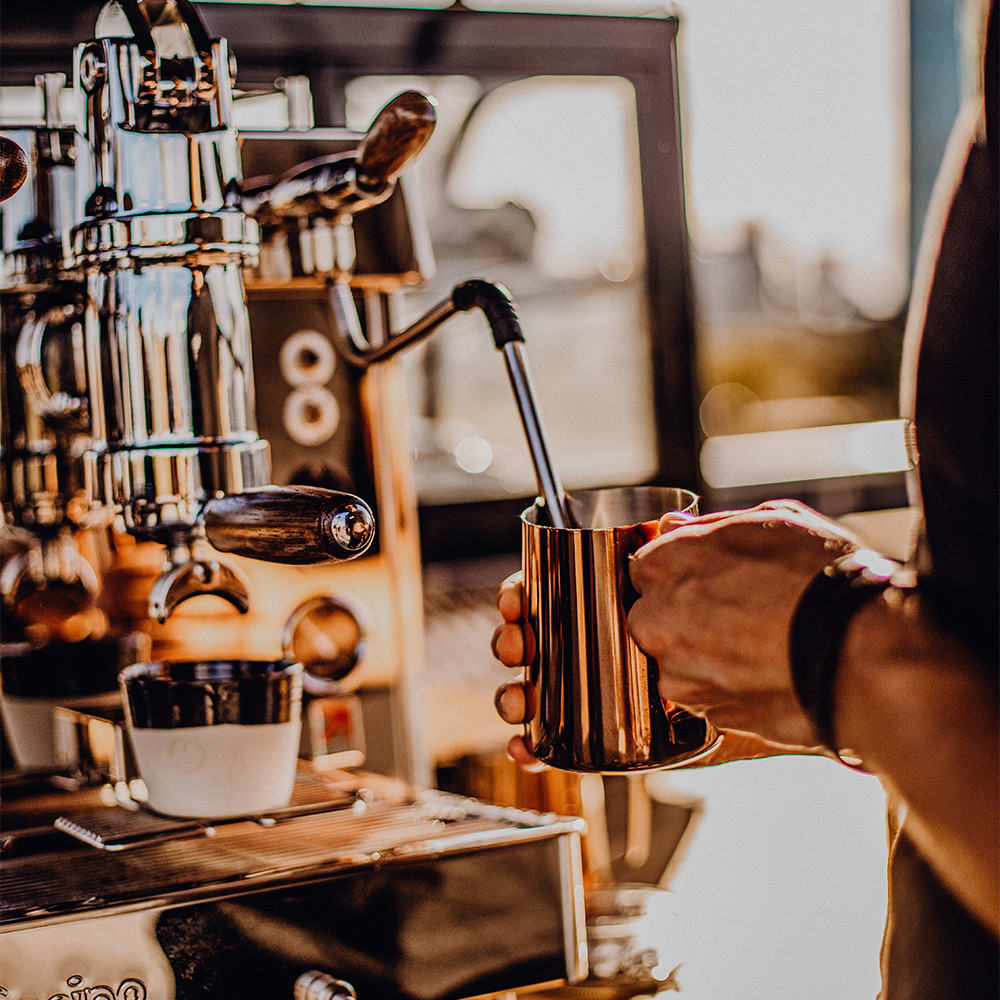 How do you find the right people?
Once you've decided to start hiring, you have to focus on finding the right people. Do you want employees who will stick with you for the long haul, or are you just looking for short-term help? These coffee entrepreneurs have slightly different approaches and expectations when it comes to finding the right people.
Like so many new small businesses, Milk + Pull was all about family when they first opened — Joe was doing a lot of the heavy lifting, and Angela's sisters helped out, too. "When we started our first location, it was my husband that worked at the shop. He had his full-time job also. And he would time it so that he would open the store, then we would have our only employee come at 9am. Then he'd go to work and come back at 5pm, and then she would leave. And then on the weekends he was there all day."
Angela notes they felt lucky to get that first non-family employee. "We were brand new, and a lot of the more established baristas, they don't want to leave where they're at if it's better known to come and work for an unknown [business]. But once people started seeing our shop and hearing about it and just experiencing the brand, people started applying. From that perspective, I think the strength of our brand from the beginning helped us with recruiting. Obviously, hiring is always tough, but it helped."
Today, Milk + Pull accepts applications on a rolling basis. "It's always good to have those things to kind of shortlist. And then when we are in hiring periods, we do social posts and we always post flyers at our shops. We want neighbourhood people to come from the community and work here…the local sort of advertising is most relevant for us."
"It's difficult to find good staff", Anthony adds. "A friend of mine, he's a successful restaurateur, he said to me, 'The biggest problem you'll have to face will be staff'. Problems get solved, but staff will always be a problem. It's so difficult to find someone who's got the same passion and drive as you. Since the pandemic, a lot of businesses have closed down, so there is a lot of unemployment out there at the moment. As soon as I put an advert out for the job, there's, like, a hundred people applying for one job within one hour of posting it — which is crazy."
And while Anthony admits it's great to have plenty of applicants, it's a challenge to find employees who are the right fit for the job. "You need someone who doesn't want to use the job as a stepping stone. They're basically just going to turn up and get a wage. In order to grow, you need someone who wants to be there and can see the vision of the company. We do want to grow as a business and that's so difficult because most people just want to see it as a stop-gap and move on to something else."
Sascha has a similar attitude when it comes to interviewing prospective employees — he's mainly focused on having a casual conversation. "We barely ask any questions. It's more like getting to know each other. We drink coffee together and talk about where they come from, what they do, what they're up to."
What skills do you look for in prospective employees?
Everyone brings something different to the table…so think about the kind of person you want to work with every day. These three coffee shop owners are all big on personality. "Since we leave [our employees] completely alone, it's extremely important for us to be able to trust people", Sascha says. "And that's why personality is absolutely the most important thing for us."
He looks for employees who won't be afraid of a challenge. "It's very important to us that they are super independent and can solve problems on their own. The car is shaky, our coffee machine is a diva…something happens all the time and they have to be able to solve these things on their own instead of giving up and leaving. We ask them to be flexible and give them the same in return. If someone says at short notice that they can't work that day, it's not the end of the world."
At this point in their small business journey, Milk + Pull is prioritising employees with experience. "Even until maybe two years ago, we were very open to saying, 'We'll train you', and we can do all the training, not just to be a barista and make the coffee, but actually understand coffee and develop your palate", Angela says. But after being in business for nine years, they realised they needed to balance coffee novices with more seasoned employees. "We still give people that opportunity that don't have that experience, because we always want to do that. But we also balanced it more with people who come with experience."
Sascha is less concerned with experience and focuses more on character. "We like to work with people who we think are cool, who we think have a great personality and are trustworthy and who are fun in their own way. We have a very diverse team. And if they've never made coffee before, that's absolutely no reason for us to exclude them. We can teach people how to make coffee, but we can't teach them to fit into the concept and the team."
Angela and Joe also look for people who have a genuine interest in coffee. "[We want someone who is] curious about the process, where it comes from, how it's made. Those are the types of questions we always ask…that interest and that curiosity about coffee." She also looks for people who are personable. "Community is a big piece", Angela says. "Just making sure that people want to connect with the community and be part of an environment where there is that connection. Part of our value proposition is that when someone walks through the door, we strive for [our employees] to either know their name or know their drink."
Anthony has similar priorities — he looks for conversational skills and confidence. "My coffee shop is called Fika, which means bringing people together. We make a big thing about talking to the customers, so that's something we do drill into the staff."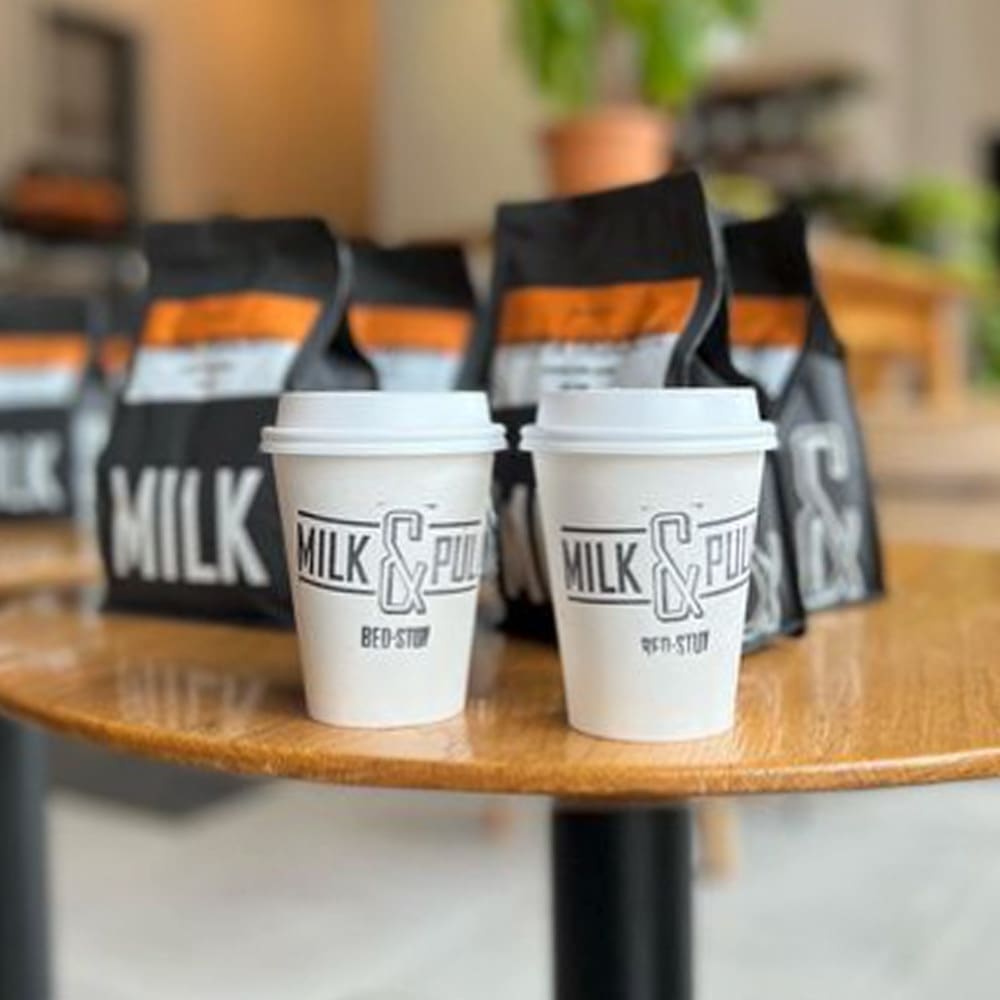 What has it been like to adopt a manager role?
Though you might have experience managing an employee at a previous job, hiring an employee for your own business is much more personal — you're trusting them with your business, and you'll be making a serious monetary investment in onboarding them.
Angela and her husband both have managerial experience from their corporate jobs, where they had managed several people at a time — quite a different scale from their current staff of nearly 30. "There's parallels…but it was a big learning curve. You have different ambitions and different personality traits. I think that was actually the biggest learning curve. It's like, 'Oh wait, I don't have an HR department. That's me. I have to develop these handbooks and communication and onboarding and training'."
Anthony has previous management experience in the restaurant industry — though at a much larger-scale establishment. He remembers that there were different tiers of managers, with plenty of people to delegate jobs to in a set-up like that. "The workload just kind of spreads out, and everyone gets their own jobs and their own responsibilities. And that's what you can do when you're working for a big company." But now that he owns his own business, Anthony finds himself doing everything…at least until he has the financial ability to pay someone to work at a manager-level job.
Sascha says he didn't have much management experience before launching brewdis. "We all have a bit of team experience in our own jobs, but when you own the business, it's a whole different story. If it's yours, you think about everything four times and approach it differently."
What's challenging about managing employees?
Anthony cites trust as one of the hardest — and most important — things about being a manager. "If you want to expand, you have to put trust in people. And I'm one of these people that don't trust a lot of people. Then I put my business hat on and think, 'I'm going to have to, I'm going to have to put faith in people because that's the only way to grow.' You have to let go a little bit and let them take over."
Angela and Joe focus on keeping communication open with their employees to prevent difficulties. "The same things that drive our business, which is being part of the community, being open and welcoming to everyone, carry into how we deal with our employees. The open communication piece is really important — that's how we try to approach any misunderstanding with an employee. It's really taking the time to listen and getting feedback, even when people are leaving. We really try to understand their experience."
Milk + Pull also tries to set up their staff for success. "There have been times when people are like, 'Oh, I want to be a barista'. But they don't understand it's not just about standing behind the espresso machine and making the coffee. You have to create an experience for the customers, talk to them, be welcoming. And some people don't want to do that. So in situations like that, we try to find a better fit for them within our company."
Because of brewdis' culture, Sascha and his co-owners strive to create a sense of community in their management style. "We're not only employees and employers here, it's more of a feeling of togetherness and everyone has a good feeling about it when they go home at the end of the day. That is, I believe, the most difficult and the most important thing."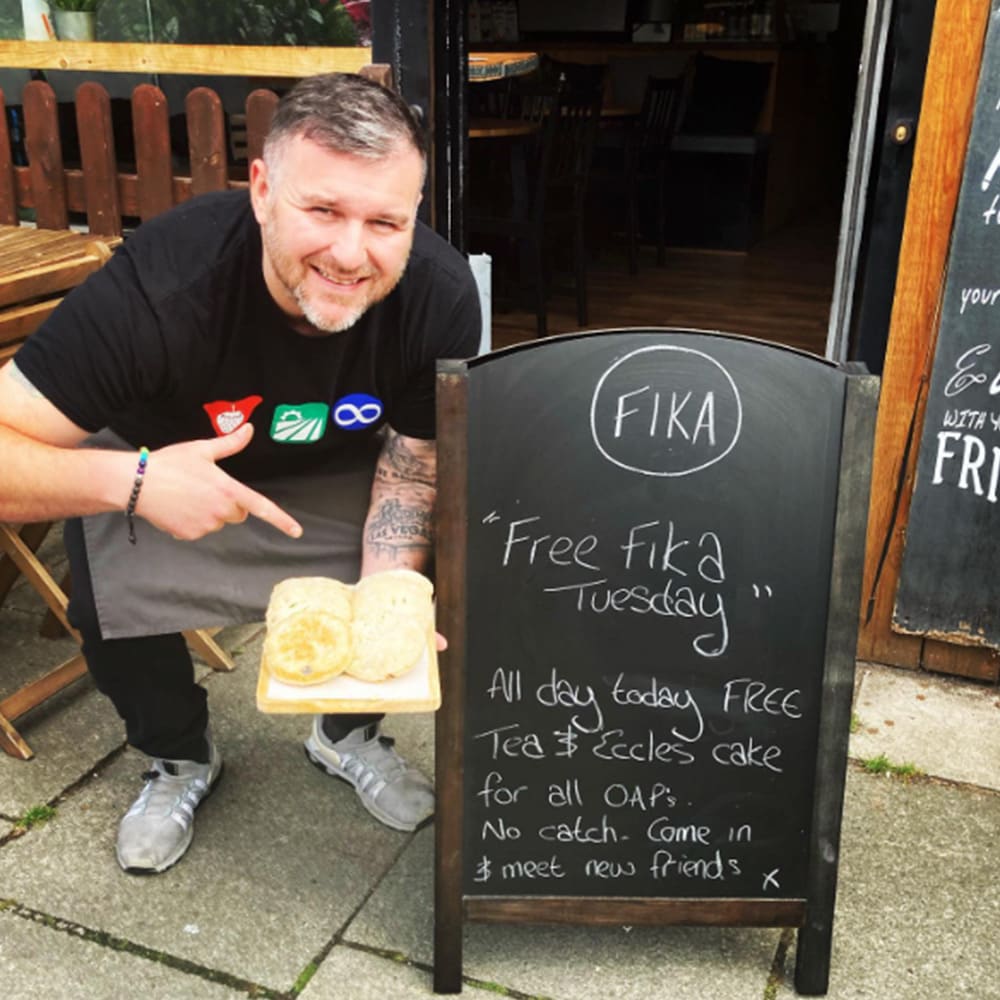 Have you ever had to let go of an employee?
Having to let go of an employee is inevitable for any business owner — and it can be difficult. "I could probably count on one hand the times where it's been a little bit of an uncomfortable breakup", Angela says. "But in those situations, again, it's about that open communication."
"Sometimes people do take things personally, as we do, too, because it's our business", she continues. "And it's just, 'You're on a different path than I'm on'. And that's always what we try to stress, that openness of where we're trying to go and where you're diverging. So it doesn't seem like we're moving in the same direction. Everyone's a grown up", Angela adds. "We try to be very empathetic in our approach when we communicate with them."
Sascha remembers letting go of an employee just once, because it wasn't a good fit. "It's ok to make mistakes and it happens to us all. We had a conversation and explained how we didn't see a good fit."
How do you keep up team morale?
The best way to get employees to stick around is by making your business a great place to work. These coffee shop owners each have their own approach for showing their employees how much they appreciate them.
"We have a lot of team building days", Anthony says. "Next week I'm taking all the staff out where the new location is." He also treats them to things like tickets to the football and after-work drinks. "I think it's the small things that mean a lot. You don't have to go and pay for them to go on a holiday. It could just be, take them for lunch, that's just a nice thing for you to do."
"Keeping up team spirit is what I see as the biggest challenge", Sascha says. "What they do has to somehow be important to them, and we try to make them understand that we depend on them. We do our best to give back a lot as well. I think we create a very good work atmosphere. I think it's important that people enjoy the work and feel that they're being treated fairly."
Angela and her husband make it a point to recognise great work from their employees. "A lot of our managers, we try to promote from within. It's really identifying who is interested in coffee, who has that relationship, not just with customers, but with people in the store. And we try to put them on those paths. So when opportunities arise for management of a store, those are the people we go to first."
They also keep an eye on overall strengths and unique skills in their employees. "We used to have a barista who wasn't that personable and didn't really connect with people, but was very kind of scientific in a way. And when we decided to start roasting our own coffee, it was like, because of the way his mind works, he might be good for roasting. So he got the training and we started our roasting programme with him. We were able to transition that person out of this role that wasn't really right for them, and put them on a new path."
Do you have a team 'look'?
Interestingly, none of these cafes enforce a uniform, though Anthony has everyone wear an apron over the casual clothes of their choice. "But they have to still obviously be quite presentable and hipster", he says.
Milk + Pull employees also don't have 'official' uniforms. "We want people to bring their whole selves to work. So we don't have a dress code. Even the music we play at the shops, it's whatever music you listen to. You curate the experience for the day that you're there."
"We have this location-based merch. So it's T-shirts that have the neighbourhoods we're in, and people love to wear those. So the way our customers love them, our employees, every time we get a shipment in, they're like, 'Can we have a T-shirt?' And they'll wear it on their own."
Sascha says that a uniform was originally planned to unify the team and represent the brand, but things shifted. "We quickly realised that it takes away the individuality. In our case, uniformity didn't really fit us at all. We now have such a diverse team, they are all really interesting and we didn't want to take away their individuality. They can wear what they want. Everyone can do their own thing here, more or less. The only thing they all have to do the same way is the coffee."
What advice do you have for business owners getting ready to hire their first employee?
Anthony's advice is to go with your gut. "If you feel comfortable with them, that's the best thing. You want to know about them as a person and you want to see how they will be. If someone is comfortable talking to you, and if you feel like you've known them for a long time, I think that's the best thing. Just go for your gut feeling anyway."
Angela's advice is to set clear expectations. "A lot of times when you're starting out, you're literally just trying to get a human to be there. And that may be the easiest thing to do. But really investigate who's interested in what you're doing, and interested in your vision, and curious about it and wants to be part of that. Because when you're first starting, it makes such a difference to have the right person that's going to actually help put your brand out there. They're representing your brand when you're not there." She advises finding staff members who are curious and forward-thinking, who want to be part of your journey. "You're setting up your brand and building a foundation. So you have to have the right people on board."