Postage essentials that match the season
Custom cards and extras highlighting the most wonderful time of the year? We print that.
Desk-friendly giftables
Make their office even more them with accessories they'll love to use, all created by you.
Make the most of every milestone
Shop party supplies and custom gifts that help turn big moments into unforgettable memories.
Explore more categories
Make every card, every room and every gathering extra special.
Take your celebration to the next level with custom details that "wow" your crowd.
Life calls for a celebration. Many, in fact. Whether it's your little one's birthday or a wedding everyone's invited to, VistaPrint is here. We're here for the thrilling whirlwind that is party planning — with invites you can customise in minutes. For that moment when you realise you need a present – with stationery that has their name written all over it (literally). For when the party's over, and you're revelling in the afterglow of a good time – cue our thank you cards.
And for the festive season, you'll find seasonal designs to make your Christmas party truly stand out. Whether you're after classic Christmas motifs or bold looks, you can send invites and boast decorations that perfectly match your vision. No matter your style, there are so many ways to infuse joy into the everyday, all at budget-friendly prices. We wouldn't have it any other way.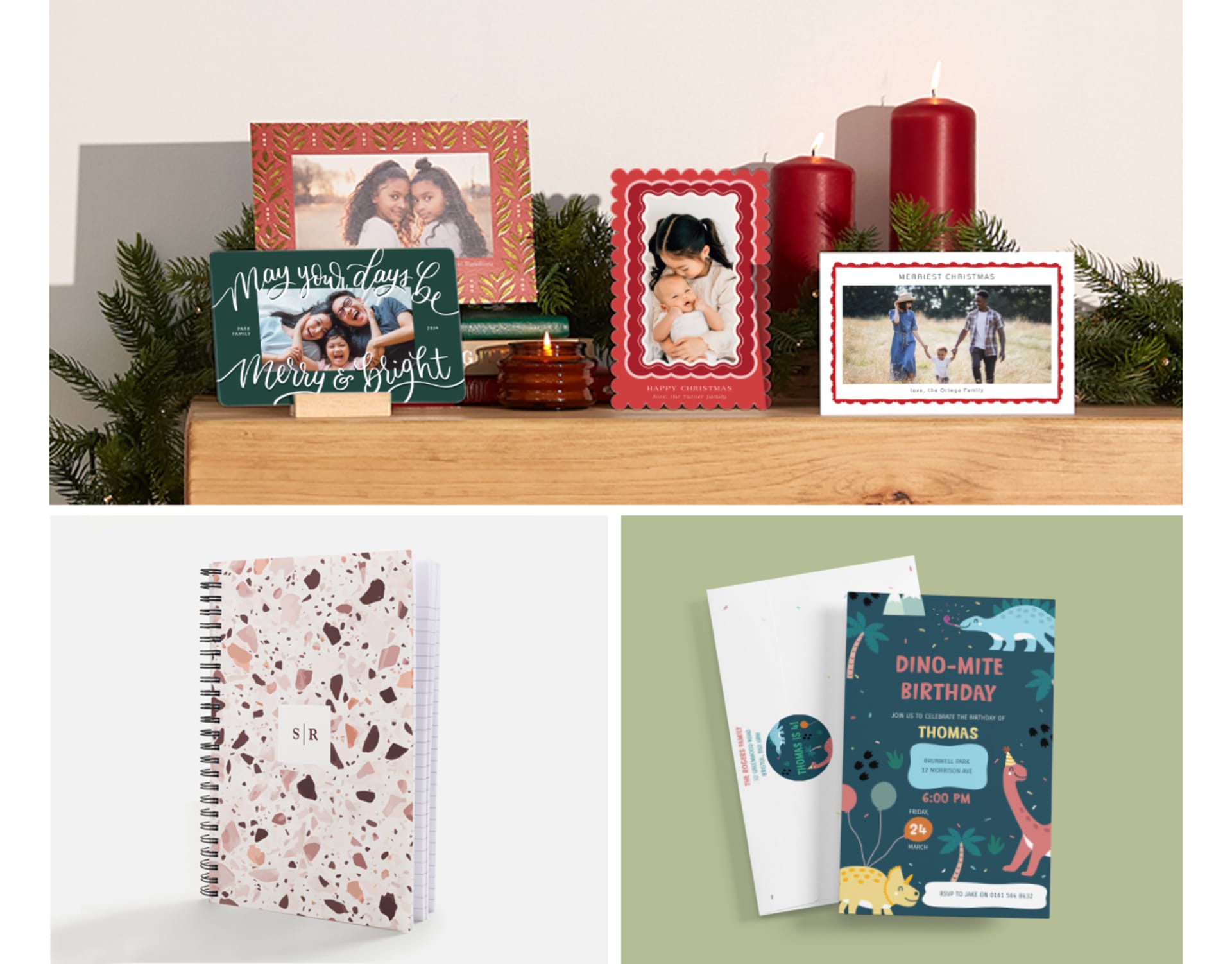 Frequently asked questions
Our photo gifts or wall art products make great presents for your special someone — no matter what the occasion. One idea is to choose a canvas or framed print and customise it with a stunning picture of you and your sweetheart. This makes for a wonderful personalised anniversary gift, birthday surprise or just a way to show your love any day of the week.
Some of our best loved gifts that can be used on a daily basis include photo calendars, mugs and tote bags. Whether you're searching for a personalised Mother's Day gift, custom Father's Day gift or present for your special someone, we have something for you. Plus, in our design studio, you'll be able to customise each gift to your liking with special messages and photos.
When thinking of memorial gifts, it helps to consider the personality and interests of the person being honoured, as well as the preferences of the bereaved family. Keepsakes like photo books that are filled with pictures and memories of the person and their friends and family can be a thoughtful and comforting gift for loved ones.
Yes. We have a variety of different custom packaging options. For example, our paper bags can be personalised with a message or design of your choice. And with both small and medium-sized options on offer, you can easily find the right fit for your type of gift.
---