Car Window Decals
Get in front of customers, even when you're behind the wheel. Explore assorted sizes and decal materials, including inside and outside-glass options.
See details

100% satisfaction guaranteed

12 size options
3 materials available
Weather-resistant & waterproof
Inside & outside-glass options
Vivid, full-colour printing
Ready to start creating your custom car window decals? First, pick the right placement and material for your decal — clear or see-through perforated vinyl are recommended for back windows, while white vinyl can work well on rear side windows. If you plan to use the decals on the rear window of your vehicle, we recommend you place them somewhere that doesn't block visibility when driving. Next, decide whether you'll want to apply your decal to the window's inside glass or outside glass. (See below to learn more.) Then explore our assortment of design templates to find the one that's right for you and your company branding needs. For best results when choosing the perforated option, make sure to avoid white and small fonts (use at least 50pt). In a matter of days, you'll be ready to transform your car, truck or van into a professional-looking company vehicle.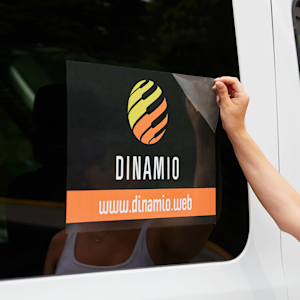 Our professional designers can help create the look you want.

Printed Product Design