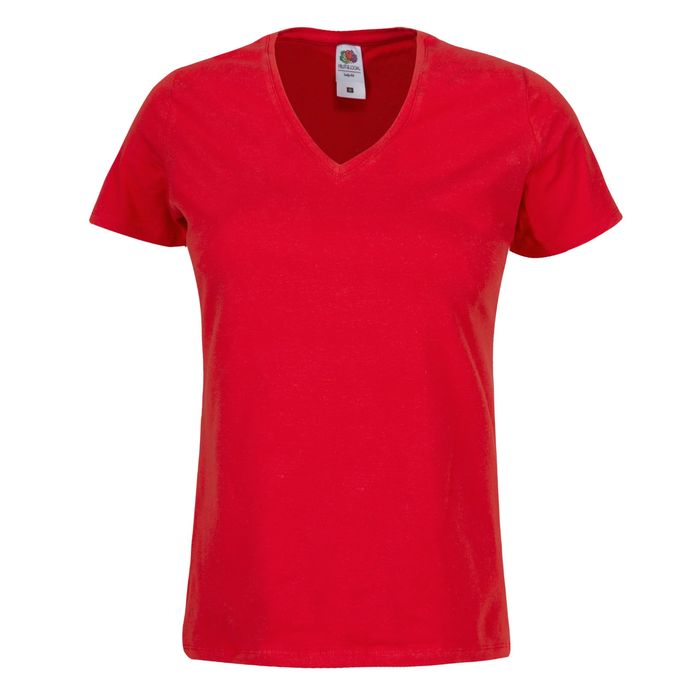 Fruit of the Loom® Lady-Fit V-Neck Ts
Single jersey, 95% cotton and 5% elastane
Features a V-neck for a flattering look
Prices include VAT
| Speed | Delivery time | Price |
| --- | --- | --- |
| Our fastest delivery option | 2 business days | £9.99 |
| Express | 4 business days | £4.50 |
| Standard | 6 business days | £3.99 |
| Economy | 10 business days | £2.99 |
Please note prices shown exclude 20% VAT. 
Delivery times include processing, printing, packaging and delivery and apply to orders placed and paid before 11pm. Orders received after 11pm are calculated from the following business day.
Exceptions
Please note the following products are always sent at specific speeds:
Photo books:

10 business days

Bags:

2-15 business days

Sweatshirts and Jackets:

2-15 business days

T-Shirts:

2-15 business days
Dress code: casual.
Simplicity and versatility is what the Fruit of the Loom® Lady-Fit V-Neck T-shirt is all about. You can pair it with just about anything in your wardrobe. Just add your logo and showcase your brand.
Gender - Women
Material - Blend
Material Details - Principal material - 95% cotton and 5% elastin
Sleeves - Short Sleeve
Collar - V-Neck
Collar Features - Ribbed Knit Collar
Construction - Side Seams
Pockets - None
Tag Type - Standard
Stitch Details - Double-Needle Stitching
Special Features - Shaped Seams
Brand Name - Fruit of the Loom®
Share a review and see what other customers are saying.