Custom Teamwear
Hit the winning shot together – showcase the team spirit with custom teamwear.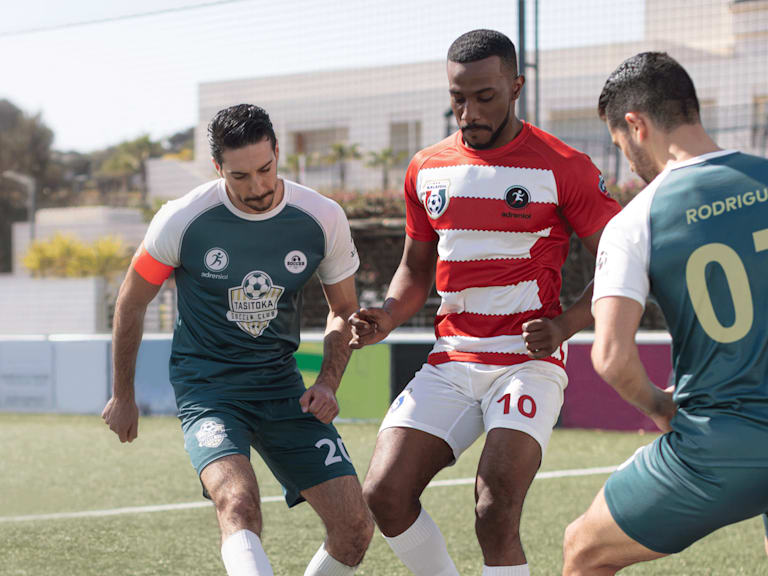 Design durable custom sports kits and teamwear for each player.
Unite your team with durable teamwear and sports kits featuring custom details for each teammate.
Custom sports kits for your team – uniquely designed by you.
Design durable custom sports kits in our creative design studio.
A matching look for your team
Whether you're creating custom teamwear for a school group, work tournament or an amateur league, it's easy to create a matching look for your team with custom sports kits featuring unique details for each player.
High-quality, all-over printing
Our advanced dye-sublimation printing process uses heat to transfer dyes onto every visible part of the personalised teamwear. This means your design can cover the entire fabric with no limitations and at no extra cost.
Interactive design studio
Once you've selected your pattern and colours, you can upload your team badge or other graphics – and become your own team kit designer. Then customise each player's shirt with their name and number. Vistaprint personalised teamwear works great for showcasing your sponsor, workplace, club or school.
Custom teamwear from Vistaprint offers:
Unlimited customisation included
Space for custom graphics, badges, logos, names and numbers.
Durable material
High-quality, moisture-wicking fabric stays cool and dry.
3-week turnaround
Your custom sports kits are delivered within 3 weeks of placing the order.
---
Frequently Asked Questions
Our custom teamwear is available from S to 3XL (check the size chart tab for detailed sizing info). You specify the sizes for each player on your team during the design process. And you can select multiple sizes for the same order, making it easy to design a unique sports kit for every player in your team.
Yes. Using our team kit designer with the design studio you can add your team badge and a logo or message to the front and arms. On the back, you can add a name and number. All customisation to the football shirt and shorts is included in the price.
Yes. You don't have to buy a full uniform and can order each product separately. This makes it easy to pick up matching gear for new team members and players. If you want to make a bulk order, our discounts are built into the quantity selector, so the more you order, the more you save.
For our range of custom sports kits and teamwear, delivery is available within the United Kingdom. We don't currently ship to the Republic of Ireland or mainland Europe.
Our personalised teamwear is made from 100% polyester moisture-wicking, anti-bacterial fabric. This durable material helps you stay cool and dry when exercising.
Photo-quality dye-sublimation printing uses heat to press coloured dyes directly into blank fabric. This makes it possible to print all over every visible part of your custom football shirts and shorts. First, each section's design is printed onto sublimation paper and then applied to a white fabric sheet before going through a heat press. Then each printed fabric section is cut out before being sewn together. This printing technique keeps your colours looking bright and your design details looking crisp game after game.
Dye sublimation offers:
All-over printing of every visible section of material

Ability to add complex patterns and gradients to fabrics

Permanent colours that embed in the fabric
---